Customs in Thailand seize over 100 kg of ivory from luggage
Bangkok, Thailand, 1st September 2013 – Authorities at Suvarnabhumi International Airport last week discovered 105 kg of ivory hidden in four suitcases in the first seizure of illegal elephant ivory at the airport in over a year. 
---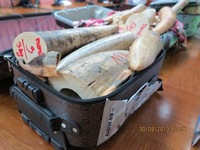 A Vietnamese couple is being held in connection with the case and will be investigated for violating Customs and Wildlife laws.
The bags containing tusks, hundreds of ivory beads and necklaces, and a number of small pieces of raw ivory, had been checked into a flight from Angola and had passed through Ethiopia before being intercepted in transit in Bangkok yesterday evening. 
According to Deputy Director General of Royal Thai Customs Yuttana Yimgarund the bags were scheduled to be put on a flight to Siem Reap in Cambodia.
The ivory was discovered after the bag was scanned by Airport of Thailand (AOT) staff who alerted the Royal Thai Customs Department, CITES, Police and Livestock Department officials stationed at the airport, who then seized the bags and arrested the two suspects.
This seizure follows one in July 2012 when close to half a tonne of ivory labelled as boxes of handicraft from Kenya.
In the past year, Thailand has come under tremendous pressure as it has been identified as the largest unregulated ivory market in the world. It also plays a significant role as a transit hub in the illegal ivory trade. In March it was required, along with eight other nations, to develop national action plans to address the illegal flow of ivory along the trade chain.  The decision was agreed at the Steering Committee meeting of the Convention on International Trade in Endangered Species of Fauna and Flora, hosted by Thailand.
 "TRAFFIC applauds the authorities in Thailand for their decisive action, seizing the ivory in transit, destined for the black market – the black market whose existence has led to thousands of elephants being slaughtered," said Dr Chris R. Shepherd, Acting Director of TRAFFIC in Southeast Asia. 
"We strongly support the Prime Minister's pledge to put an end to the trade in ivory in Thailand and encourage enforcement agencies throughout Asia to work together to put an end to this wasteful and destructive trade."
---