Vital evidence goes up in smoke
Mozambique, 7th July 2015—Mozambique yesterday destroyed 2434.6 kg of elephant ivory and 86 pieces of rhino horn weighing a total of 193.5 kg, according to media reports. 
---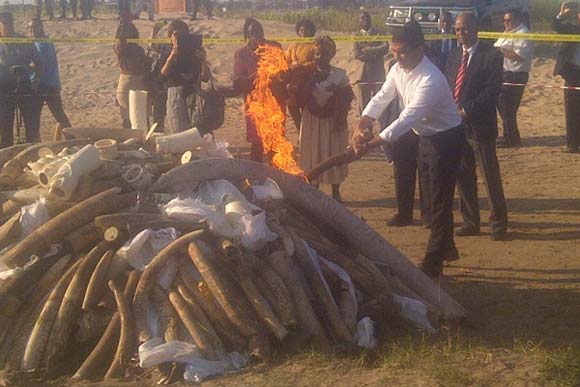 The products incinerated are believed to have included the 1.1 tonnes of elephant ivory and the remaining rhino horns out of 65 seized in May in Matola, Mozambique, the largest horn seizure to date during the current rhino poaching crisis. 
Several of the 65 horns were subsequently stolen from a police warehouse, with at least 7 suspects, four of them police officers, arrested in connection with the theft. 
However, it is unclear whether DNA samples following CITES (Convention on International Trade in Endangered Species of Wild Fauna and Flora) protocols were taken from the remaining rhino horns before they were destroyed, although an independent audit of the materials burned is understood to have taken place. 
CITES Decision 16.84 directs all Parties to submit rhinoceros horn samples from specimens subject to criminal investigation to designated accredited forensic laboratories for DNA analysis, while CITES Decision 16.83 directs all Parties to do the same thing for any seizure of ivory that represents 500 kg or more. 
Cases against those arrested in association with the seizure of the 65 horns and in the subsequent theft of 12 of them are still awaiting completion, with the primary suspect in the original seizure reported to have absconded. 
"The apparent destruction of evidence in ongoing cases raises obvious concerns over how the legal process will now be properly followed in Mozambique," said Tom Milliken, TRAFFIC's rhino and elephant expert.  
"In fact, Mozambique's recent mega-seizure of rhino horns and elephant ivory has basically unfolded as a textbook case of legal unprofessionalism."
While the destruction of ivory and rhino horn will certainly prevent its "leakage" into illegal trade, robust ivory and rhino horn stock management systems would appear to provide a more viable long-term solution. 
Furthermore, the impact of public wildlife product destruction events on end-user markets is unknown and could even have detrimental impacts by highlighting the scarcity of the commodities being destroyed, increasing the demand for such products and driving prices upwards. 
"Public destruction of wildlife products seized from illegal trade may capture the media limelight but it is certainly not going to solve the global poaching crisis," said Milliken.  
"Applauding the destruction of court evidence and foreclosing on any prospect of effectively prosecuting those arrested in this landmark seizure is simply unconscionable."
"The root causes that permit wildlife trafficking to take place need to be addressed, including the corruption that undermines law enforcement efforts.  Without the evidence how can there even be a day in court?"
---