To mark Global Tiger Day, TRAFFIC helps Huya integrate wildlife conservation into their live streaming platform
This Global Tiger Day, TRAFFIC's China Office supported Huya launch a series of public awareness-raising activities for protecting wild tigers. At an event attended by national celebrities and social media influencers, live streaming and physical exhibition helped highlight the need for wild tiger conservation and call on the public to pay more attention to biodiversity conservation and sustainable development.
---
Huya launched its campaign "Saving Wild Tigers Painting Solicitation" and received hundreds of creative submissions including illustrations, print engravings, and watercolour paintings to help draw attention to issues currently facing tigers. The participants included not only artists but also amateur volunteers, influencers, and their fans on Huya's live streaming platform, showing the insight and understanding of different groups on wildlife conservation.
On 27th July, together with China Wildlife Conservation Association (CWCA), TRAFFIC, and International Fund for Animal Welfare (IFAW), Huya held an art exhibition for selected works from "Saving Wild Tigers Painting Solicitation" and invited Huya's famous influencer "Sha Yu Yo" as the ambassador for this art exhibition.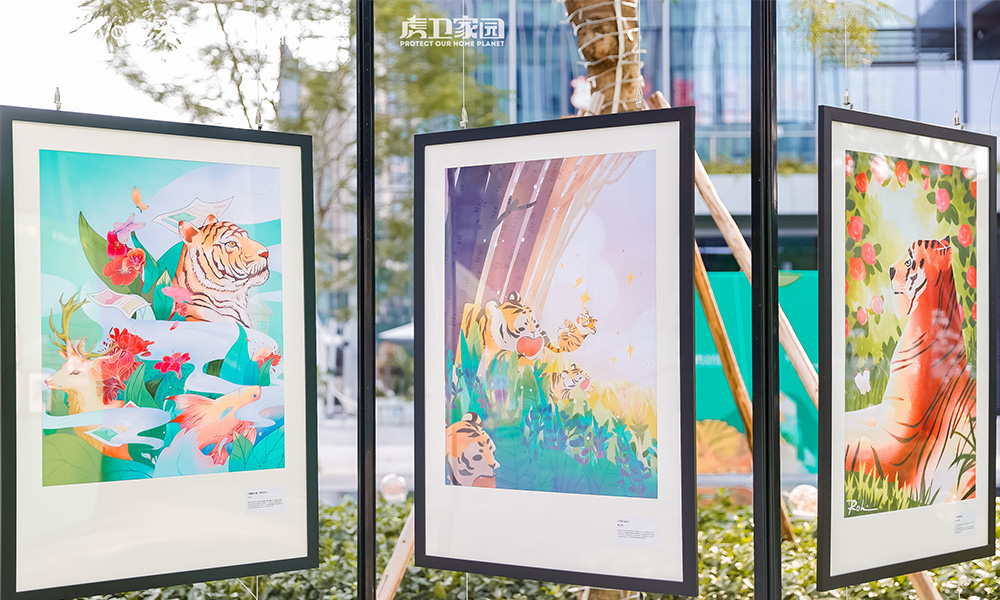 Huya will also launch its "Global Tiger Day Awareness Raising Live Streaming" event, featuring Huya's famous influencer "Zhang Daxian" and conservationists to spread the word on wild tigers conservation to Huya's customers.
As a new member of the "Coalition to End Wildlife Trafficking Online" last June, Huya has been exploring innovative approaches through live streaming events.
Huya has been exploring fundraising approaches and conservation awareness-building through its live streaming platform. For example, with the support of CWCA and TRAFFIC, Huya launched a live streaming campaign called "Protecting the King in the Forest" with traditional Chinese craftsmen on last year's Global Tiger Day. At the start of 2022, Huya launched the "Protect Our Home Planet" campaign to collaborate with key nature reserves to launch live streaming series, including Earth Day Live Streaming at Northeast Tiger and Leopard National Park and Giant Panda National Park.
Huya has also organised activities for volunteers, including improving their capability on identifying illegal wildlife trade information online and spreading the word about wildlife conservation, reaching over 100,000 volunteers.
"As a leading game live streaming platform in China, Huya is ready to take advantage of our platform and link forces from different sectors to raise public awareness to protect our biodiversity and contribute to sustainable development.  In the future, Huya will continue to gather forces from all parties, encourage more people to participate in wildlife conservation and work together to protect our one shared home. " Zhan Xiaoyan, Vice President of the Public Affairs Department of Huya said.
Since joining the Coalition, Huya has been working hard to build connections with platforms, influencers, customers, volunteers, and NGOs to help raise awareness of wildlife conservation. We hope that more domestic member companies of the Coalition will join Huya, Tencent, Baidu, Alibaba, and Douyin not only to focus on combatting illegal wildlife trade online but also to harness their platform's influence to carry out a variety of biodiversity conservation activities and fulfill social responsibility."
Ling XU, Director of TRAFFIC's China Office
---
Notes:
This activity is jointly funded by the Critical Ecosystem Partnership Fund (CEPF) through the project "Reducing wildlife trafficking across logistics supply chains and online platforms".
The link has relevant information on Huya, IFAW, CWCA and CEPF.
---