Combating the weakest links: targeting solutions in the transport sector
Bangkok, Thailand, 11th February 2015—A ground-breaking meeting bringing leading private sector companies moving goods across the globe together with wildlife trade experts has initiated a process to strengthen partnerships to eliminate the risk of facilitating wildlife trafficking.
---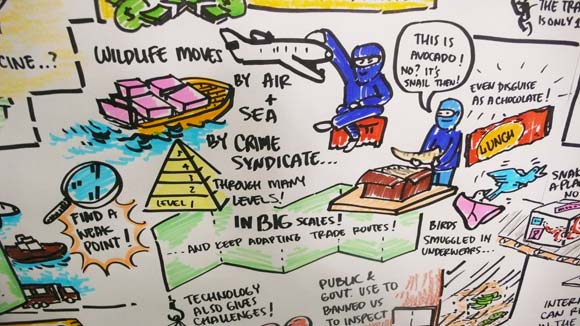 Representatives of transport and logistics companies joined TRAFFIC and the World Customs Organization in consultations that comprehensively examined transport as the missing link in the suite of solutions needed to fight wildlife crime.
The two-day workshop in one of Southeast Asia's most significant wildlife trade hubs was done under the auspices of the Wildlife Trafficking Response, Assessment and Priority Setting (Wildlife TRAPS) project targeting the movement of illicit wildlife cargoes across borders. 
Wildlife TRAPS is implemented by TRAFFIC and IUCN – the International Union for the Conservation of Nature, with support from the United States Agency for International Development (USAID). 
Delegates identified weak points along the supply chain often abused by traffickers, and how these could be strengthened through a closer examination of policies, procedures and practices.
Participants also explored the complexity of the illegal wildlife trade, smuggling methods and routes, and went on to identify the potential business value to the transportation and logistics sector and their influence in helping to reduce it.
Industry players raised the need for practical solutions that could be built into daily business and existing initiatives while minimising additional costs.  
Also discussed was the need for greater information sharing between the sector, wildlife experts and law enforcement agencies to enable a more efficient and speedy response to traffickers.
A number of individual, bilateral and collaborative activities were pledged at the workshop in relation to awareness raising and capacity building within the transport and logistics sector.
"The transport industry can serve as the eyes and ears of enforcement agencies as part of a global collaboration to eliminate the poaching and trafficking of illegal wildlife commodities," said Nick Ahlers, Leader of TRAFFIC's Wildlife TRAPS project. 
"To be successful, the entire logistics sector needs to be part of a united push to eliminate wildlife trafficking from supply chains: in particular we would welcome participation from major shipping lines and cargo and baggage handling sector." 
"Along with our partners, the WCO has long been active in the fight against illegal wildlife trade.  A vital component of our shared strategy is raising awareness amongst all relevant stakeholders, including the transport industry, on the importance of combating this scourge," said WCO Secretary General, Kunio Mikuriya.
"Creating new partnerships and exploring collaborations amongst the industry together with illegal wildlife trade experts is an essential step in the right direction" said Daniel Bloch, International Federation of Freight Forwarders Association's (FIATA) Manager of the Customs Affairs Institute (CAI) and Region Asia Pacific (RAP)
Mr Shantanu Bhadkamkar, Chair of the International Federation of Customs Brokers Associations (IFCBA), threw the support of his members behind this initiative.
"IFCBA will work closely with the exporters, importers, carriers & other transport intermediaries, authorities, intergovernmental organisations, NGOs & other stakeholders in international trade," he said. "Together we can strengthen the global supply chains and equip the stakeholders, through training and collaborative actions along supply chains, to counter the illegal wildlife trade."
The workshop report: Countering illegal wildlife trade: Collaborative actions along transportation and supply chains 
---