Human health benefits from protecting biodiversity highlighted in new CBD-WHO report
Montreal, Canada /Kolkata, India 13th February 2015—A ground-breaking report on biodiversity and health, launched today at the 14th World Congress on Public Health, in Kolkata, India, shows the significant contribution of biodiversity and ecosystem services to better human health. 
---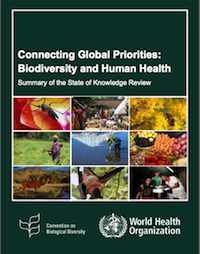 The report, Connecting Global Priorities: Biodiversity and Human Health, demonstrates that the relationship between biodiversity and human health is extensive and complex. It outlines the ways that the conservation and sustainable use of biodiversity has positive impacts on human health, including through impacts on water and air quality, nutrition, non-communicable and infectious diseases, and medicines, among others. 
Prepared by the Secretariat of the Convention on Biological Diversity (SCBD) and the World Health Organization (WHO), the report features contributions from numerous partners and over 100 experts. 
"TRAFFIC congratulates the CBD and WHO on this important milestone publication in support of international efforts to save our planet's biodiversity and in highlighting the vital role biodiversity plays in protecting human health and well-being," said Roland Melisch, TRAFFIC's Senior Programme Director for Europe and Africa. 
TRAFFIC contributed to the report's advanced draft chapters on Traditional Medicine, Biodiversity, Health Care and Pharmaceuticals,  in particular highlighting the importance of many wild-harvested plant species used as medicines by communities world-wide. The issues of sustainability of wild harvesting of plants were also raised in the chapter on Agricultural Biodiversity and Food Security. 
Many medicinal plant species are at risk from over-harvesting and TRAFFIC contributed case studies illustrating how sustainable harvesting and management of wild plant resources following the FairWild Standard criteria can both enhance the conservation status of plants and ensure equitable sharing of the benefits from the resource, including their human health contribution. 
The case-studies include work by TRAFFIC and other partners in China on supporting the Traditional Chinese Medicine sector in establishing sustainable supply chains for wild plants. These case-studies have also contributed to the Biodiversity and Community Health initiative (BaCH), to which TRAFFIC is a partner.
"Wild plants form the bedrock of traditional health care systems world-wide, but they are under increasing pressure from over-exploitation" said Anastasiya Timoshyna, TRAFFIC's Medicinal Plants Programme Leader. "Ensuring wild medicinal plants are managed sustainably for the benefit of all is in everyone's best interests—and the FairWild Standard sets out clearly how to go about achieving this." 
Previously, at the Convention on Biological Diversity meeting held in South Korea in October 2014, TRAFFIC tabled an intervention calling upon Parties to scale-up their plant conservation efforts, in particular on sustainable use of plants and for in situ conservation of threatened plant species in order to meet their international commitments towards achieving the Aichi Biodiversity Targets. 
The report launched today also compliments the ongoing efforts of TRAFFIC, WHO, WWF and IUCN in updating the Guidelines on Conservation of Medicinal Plants. 
"As today's report makes clear, protecting valuable medicinal plant species must be an international conservation priority—not simply to meet agreed common conservation goals, but because for many it is quite literally a matter of live or death," said Timoshyna. 
---