TRAFFIC encourages Vietnamese start-ups to adopt zero-tolerance towards threatened wildlife consumption
Ho Chi Minh City, Viet Nam, 16th November 2016—Dozens of Vietnamese entrepreneurs in the technology sector understand the need to adopt corporate social responsibility (CSR) policies against threatened wildlife consumption following a forum held in Ho Chi Minh City organized by TRAFFIC, the Viet Nam Chamber of Commerce and Industry (VCCI), the Viet Nam e-Commerce Association (VECOM) and VP Bank. 
---
Representatives from businesses, incubators, start-up funds and business associations attended the forum held during Global Entrepreneurship Week, an event celebrated in over 160 countries by 10 million people world-wide. 
TRAFFIC's research has identified e-commerce as an important area to target for reducing wildlife trafficking and the "Start-Up Viet Nam" forum is a key way to reach companies entering the sector. 
In June, TRAFFIC conducted a 23-day rapid assessment of the top eight e-commerce websites in Viet Nam to determine the prevalence of wildlife sales online. For 30 minutes each day, TRAFFIC searched for wildlife products that ranged from birds and lizards to rhino horn and ivory. Over the course of the assessment, TRAFFIC found 180 advertisements for wildlife—64% of which advertised illegal commodities. 
TRAFFIC's rapid assessment suggests e-commerce websites are a low risk channel to supply consumers with illicit wildlife products
Madelon Willemsen, Head of TRAFFIC in Viet Nam
"With the growth of the e-commerce market in Viet Nam, we must closely monitor activity in this sector and engage businesses to act against the illegal trade of wildlife.
"Through TRAFFIC's partnerships with civil society organizations like VCCI and VATA, we are encouraging the business community, including the e-commerce sector, to adopt corporate social responsibility policies that reduce the illegal trade and consumption of wildlife." 
Earlier this year, TRAFFIC conducted capacity building workshops with staff of VECOM. VECOM also held a search engine optimization competition where contestants created websites educating and advocating zero-tolerance towards rhino horn consumption.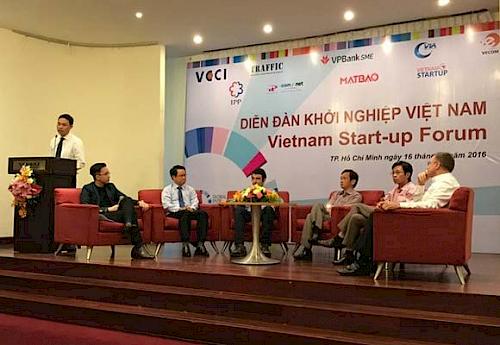 Ms Le Thi Thu Thuy, Vice Director of the Small and Medium Enterprise Promotion Centre, VCCI said, "Global Entrepreneurial Week is a big opportunity for many attendees to develop their local and international business networks and learn from their peers. 
"We want to show these start-ups that corporate social responsibility policies such as zero-tolerance towards threatened wildlife consumption can attract new business and foreign investment. Vietnamese e-commerce businesses have a unique opportunity to be leaders in the reduction of wildlife trafficking."   
The latest forum was one component of TRAFFIC's demand reduction strategy of encouraging businesses throughout Viet Nam to become leaders in their respective fields by adopting CSR policies that reject the consumption of threatened wildlife. 
---
About VCCI
The Vietnam Chamber of Commerce and Industry (VCCI) is an organization that represents and protects legitimate benefits of business communities. VCCI has a network of branches, representing offices and members nationwide.
About VECOM

Founded in 2007, the Viet Nam E-commerce Association (VECOM) was established to gather corporations, organisations, and individuals working in e-commerce. VECOM is a non-profit that works to unite, support, and protect its members to develop e-commerce in Viet Nam