Sustainable use of medicinal plant resources in Traditional Chinese Medicine examined
Beijing, China, 11th February 2015–The Traditional Chinese Medicine (TCM) industry was encouraged to establish green supply chains during a meeting of leading TCM representatives held last month in Beijing and jointly hosted by TRAFFIC and the China Medical Pharmaceutical Material Association (CMPMA).
---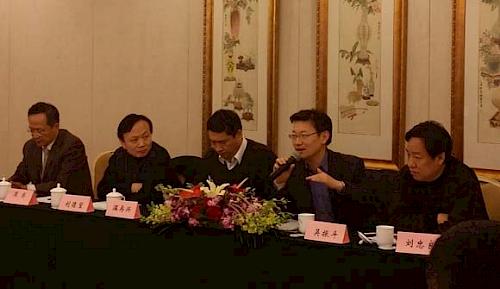 TRAFFIC's Li Chenyang, Programme Manager of the Engaging China's Private Sector in Sustainable Management of Medicinal Plants project (EGP-MAP), presented case studies demonstrating the benefits of sustainable utilization and management of medicinal plants resources to representatives from the International Cooperation Department of State Administration of TCM (SATCM), Market Order Department of Ministry of Commerce, Plant Protection Division in State Forestry Administration (SFA), the World Federation of Chinese Medicine Societies(WFCMS) and Zhejiang Wecome. 
The benefits of adopting practices such as those endorsed through the FairWild Standard for sustainable wild plant harvesting were highlighted by TRAFFIC's Programme officer, Zhang Ke, including enhancing the competitiveness and social responsibility of companies within the industry. 
The EGP-MAP project has been championing sustainability in wild plant sourcing and Dai Dexiong, Vice General Manager of Zhejiang Wecome, spoke about how his company had benefited from the lessons learned during the project. His warm words about the project were echoed by Wu Zhendou, the Deputy General Director of International Co-operation Department of the SATCM, who recognized the positive role of TRAFFIC and other international organizations in protecting Chinese medicinal plant resources and how the EGP-MAP had helped promote sustainable development of China's TCM enterprises. He hoped that the TCM industry and relevant government departments could further co-operate with international organizations such as TRAFFIC to resolve current issues with sourcing of medicinal plant resources. 
Wen Zaixing, a former inspector with the Market Order Department in the Ministry of Commerce spoke about the importance of quality and safety in the TCM supply chain, in particular in the TCM markets in 11 provinces where the Ministry had already carried out investigations. The solution, he said, was to establish a traceability standard for TCM production, storage and logistics, in line with those in the FairWild Standard promoted by TRAFFIC.
The Director of the Plant Protection Division in the State Forestry Administration (SFA) Liu Dewang noted that the SFA had recently issued Wild Plant Cultivation and Utilization Development Guidance that included supporting livelihood development for farmers collecting and using forest medicine resources.
"The bringing together of government departments and industry players with interests in the TCM sector helps build a mutual understanding of the common challenges faced and how to move forward with creating sustainable solutions, a process in which TRAFFIC is pleased to participate," said Li Chenyang.

This communication has been produced with the financial assistance of the European Union. The contents of this communication are the sole responsibility of TRAFFIC and can under no circumstances be regarded as reflecting the position of the European Union.
---