Businesses in Vietnamese Tourist Hub Quang Ninh Step Up Efforts to Combat Illegal Wildlife Trade
Quang Ninh, Viet Nam, August 2019— Members of the business community in Vietnamese tourist hub Quang Ninh met today to discuss ways in which to incorporate wildlife protection into their corporate social responsibility (CSR) and branding strategies to increase their competitiveness in the digital age. The event, hosted by TRAFFIC in partnership with the Quang Ninh Business Association, drew 40 businesspeople and focused on taking overt action against illegal wildlife trade that could protect local businesses as well as protecting endangered species.
---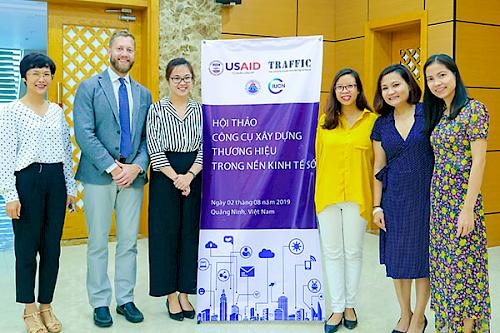 The workshop featured presentations that traced the devastating impact that involvement in illegal wildlife trade can have on a company's reputation and operations. Participants considered how adopting an anti-trafficking CSR policy, code of conduct, or branding strategy could help them circumvent this risk as well as setting them apart from competitors in a marketplace increasingly populated by clients concerned with the ethics of the companies they patronize.
Participants also learned how to stage their own demand reduction interventions, supporting global efforts to reduce demand for beleaguered wildlife species, such as rhinos, tigers, and elephants. They worked together to brainstorm a practical action plan to guide the adoption of new wildlife-focused policies which local businesses could readily apply.
There is a need for local companies to take a more aggressive role in combatting illegal wildlife trade in Quang Ninh. By stepping forward and saying, 'We will not tolerate this,' we can send a clear message to the criminal networks that profit from this industry that they are not welcome here, and we can benefit our own businesses in the process
Mr. Nguyen Cong Lenh, Vice President of Quang Binh Business Association
Quang Ninh province, home to the world-famous Ha Long Bay, is a booming tourist destination, and has been flagged in TRAFFIC research as a wildlife trafficking hotspot. This event is one of a series of capacity building workshops for local businesses, and is part of greater efforts to make Quang Ninh province an illegal-wildlife-free zone thereby increasing its attractiveness to environmentally conscious tourists.
"We were pleased to see the response today from Quang Ninh's business community," said Sarah Ferguson, director of TRAFFIC in Viet Nam.
"By leading the fight against wildlife crime, they are helping steer the region towards sustainability and creating an inspiring model for others to follow."
The event was supported by the Wildlife Trafficking, Response, Assessment and Priority Setting (Wildlife TRAPS) Project, a partnership with USAID.
---