Mesoamerica authorities get to grips with sea cucumbers and corals
TRAFFIC provides training on coral and sea cucumber management and identification
Merida Yucatan, Mexico, May 2015—Delegates from across Mesoamerica met last month at two regional training and capacity building workshops organized by TRAFFIC in co-ordination with Mexico's General Attorney for the Protection of the Environment (PROFEPA) on precious and semi-precious corals and sea cucumbers. 
---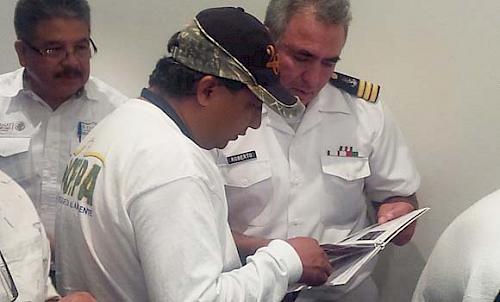 The events were supported by The US Embassy in Mexico and the USFWS Wildlife Without Borders LAC Program. 
Inaugural sessions were led by Sonya Tsiros (US Consul in Merida), Reinaldo Morales Rodríguez (Leading expert of the Regional Fisheries Organization OSPESCA), Arturo Rodriguez (PROFEPA Under-prosecutor) and Adrian Reuter (TRAFFIC).
More than 60 participants from Mexico, Belize, Guatemala, El Salvador, Panama, Nicaragua, Costa Rica, Dominican Republic and Honduras and regional bodies such as OSPESCA (regional fisheries organization) and ROAVIS (Central American Wildlife Enforcement Network) received expert tuition from leading researchers and officials on a wide range of topics from specimen identification to enforcement actions to the tools available to support the daily activities of officials responsible for the management and trade of corals and sea cucumbers in the region. 
The meetings also provided opportunities to strengthen inter-regional collaboration on issues of common concern, such as illegal international trade.
In addition to the practical hands-on training, TRAFFIC also developed capacity building and identification materials in Spanish so that participants can pass on the knowledge gained back in their home countries and ensure the information is always available to relevant actors in the region. 
These training events were very well received by those present, several of whom expressed the need for similar future efforts in the region on these and other wildlife trade-related topics of shared concern.
---