i
hunted for their song
Asian songbirds have reached crisis point. Demand for a wide array of songbirds throughout Southeast Asia has resulted in a frenzy of illegal trapping and unsustainable trade to supply demand for them as caged birds.
The incessant trapping of songbirds is causing forests which were once filled with song to slowly grow silent. This has driven some species like the Straw-headed Bulbul to local extinction. In countries including Indonesia, Viet Nam and Singapore they are bought and entered into singing contests. Some species of songbirds such as the White-rumped Shama fetch a higher price if sourced from the wild. We are working with conservationists, local governments and campaigners to halt the unmitigated plunder of these precious creatures.
over 70,000
birds have been recently observed in trade across SE Asian bird markets
14,000
birds were found for sale in shops in Singapore over a four day survey
90%
of bird species found for sale in Viet Nam were not subject to any trade controls
Java Sparrow
are almost extinct in the wild due to over-trapping and illegal trade
Bali Myna
all existing wild individuals are a result of reintroduction following decimating capture for trade
hope lies in collaboration
The songbird trade conservation issue is highly complex. A co-ordinated effort by conservationists across different fields is required to tackle plummeting wild population numbers.
We are active participants and one of the catalysts of the newly-formed IUCN/SSC Asian Songbird Trade Specialist Group. It's working to create synergies by bringing together a range of experts to find solutions to reverse the growing threats to songbirds and improve the conservation status of all the species involved. The conservation action we're involved in includes in situ research into wild populations and associated genetic research, trade monitoring and legal protection, ex situ conservation breeding programmes, and helping to raise awareness and develop community engagement initiatives.
Conservation Strategy for Southeast Asian Songbirds in Trade
Experts from wildlife conservation and research organisations, including TRAFFIC, devised a strategy to protect the region's songbirds at the first Asian Songbird Trade Crisis Summit in 2015. This document, alongside a  detailed action plan, guide the IUCN/SSC Asian Songbird Trade Specialist Group in their conservation efforts.
what we're doing to save Asian songbirds
trade monitoring and analysis
Although the demand for songbirds is longstanding, it was our trade monitoring work that shone a spotlight on the sheer scale of the bird trade and catalysed more conservation actions.
A rapid but comprehensive inventory of Jakarta's notorious bird markets in June 2014 uncovered over 19,000 birds for sale over three days. This alarming volume spurred us and our partners into organising the first Southeast Asian Songbird Trade Crisis Summit in September 2015. Since then, we have carried out more surveys, uncovering the scale of the bird trade across Southeast Asia and raising the profile of this issue with governments, other conservation organisations, and consumer groups. Our research is helping to support the Summits, the IUCN/SSC Asian Songbird Trade Specialist Group and the Conservation Strategy, IUCN Red List™ status updates, reviews of national protected species lists, and conservation actions by others.
Asian Songbird Crisis Summits
The inaugural Asian Songbird Crisis Summit was held in Singapore in October 2015 to address the rapidly escalating threat to wild songbird populations in Asia. Annual meetings have since been held to maintain momentum and the pressure on Asian governments to shut down illegal and unsustainable trade.
28 priority species heavily impacted by the crisis have been identified for urgent protection, and have been the focus of efforts to reverse sharp declines in the wild. Actions are being been taken by NGOs, governments, academics, zoological institutions, and public awareness organisations, and have included approaches such as education, consumer outreach, increased enforcement and strengthened regulation.
Silent Forest initiative
TRAFFIC and the European Association of Zoos and Aquariums (EAZA) are working together to reverse the crisis facing Asian Songbirds. In February 2018, we signed an MoU with EAZA to intensify our collaboration, in particular with regards to their Silent Forest campaign. 
Silent Forest is working to increase awareness within the general public and zoos, fundraise for conservation efforts working to prevent extinctions and provide know-how, mentorship and manpower to support and initiate conservation breeding programs and related ex-situ research activities. In April 2018, EAZA and the Silent Forest campaign partners released a position statement on songbird trafficking.
reports related to ASIAN SONGBIRDS
Explore the latest publications, reports and papers from TRAFFIC related to Asian Songbird conservation.
Visit our resource library for the full TRAFFIC publication archive.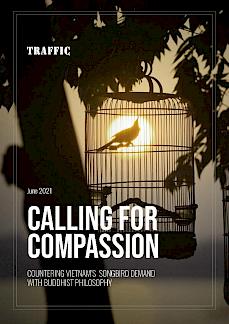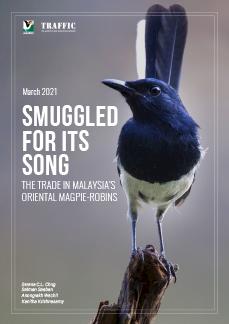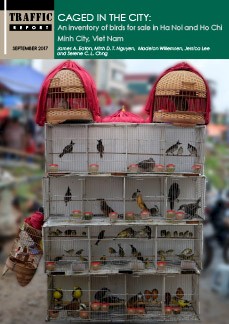 Trade monitoring
Wildlife trade monitoring is at the heart of TRAFFIC's work, supporting our projects across the world with the latest research whilst simultaneously guiding the policy recommendations we make to governments, organisations and international conventions.

Behavioural change
Changing attitudes, knowledge and consumer behaviour is a crucial element in the fight to save endangered wildlife. We're currently implementing Social and Behavioural Change Communications initiatives in Asian countries/territories to address consumer consumption.