i
hunted for their song
As songbirds are captured from the wild and confined to cages, the melodies of the forests fall into a haunting silence. 
 
In Southeast Asia, songbirds are in crisis. They fall prey to illegal and unsustainable trade, destined for singing competitions or life as caged companions. 
 
The surge in demand has tragically led to local extinctions of species like the Straw-headed Bulbul. Adding to the crisis, certain birds, such as the White-rumped Shama, face soaring demand from bird singing competitions. 
 
We're not just standing by – we're teaming up with passionate conservationists and governments to safeguard our natural symphonies.
Only 8%
of globally traded songbird species are CITES-listed
Straw-headed Bulbul
confined to a small range due to over-trapping and illegal trade
90%
of bird species for sale in Viet Nam lacked trade protection
Javan Pied Starling
all wild individuals are escapees from captivity or reintroduced after being decimated by capture for trade
hope lies in collaboration
The songbird trade conservation issue is highly complex. A coordinated effort across different fields is essential. 
As catalysts and proud participants of the IUCN SSC Asian Songbird Trade Specialist Group (ASTSG), we play an active role in coordinating the ASTSG across a wide range of expertise. 
TRAFFIC's contributions extend to crucial areas such as trade monitoring, law enforcement support and advocating for improved legal protection.  
ASTSG has identified 69 priority taxa severely impacted by the crisis, calling for immediate protection.  
Safeguarding Southeast Asian Songbirds: A conservation strategy
Wildlife conservation and research experts, including TRAFFIC, crafted a strategy at the 2015 Asian Songbird Trade Crisis Summit to protect the region's songbirds. This document, and an accompanying action plan, guides the IUCN SSC Asian Songbird Trade Specialist Group in their conservation efforts. 
what we're doing to save Asian songbirds
trade monitoring and analysis
Although the demand for songbirds is longstanding, it was our trade monitoring work that shone a spotlight on the sheer scale of the bird trade and sparked a surge in conservation efforts.

In June 2014, an inventory of Jakarta's notorious bird markets uncovered a staggering 19,000 birds for sale in just three days. This concerning find motivated us and our partners to organise the initial Southeast Asian Songbird Trade Crisis Summit in September 2015.
Since then, we've conducted more surveys, uncovering the vast bird trade across Southeast Asia, and sounded the alarm to governments, fellow conservation organisations, and consumer groups.
Our research supports the Summits, the IUCN SSC Asian Songbird Trade Specialist Group, and the Conservation Strategy. It also contributes to IUCN Red List™ updates, reviews of national protected species lists, and inspires conservation actions by various stakeholders.
Songbirds at CITES
As local songbird populations dwindle and traffickers begin sourcing beyond borders, what was once a domestic trade concern has become an urgent international issue. In this changing landscape, global safeguards such as CITES are paramount to protect songbirds. 
The songbird crisis initially caught the attention of CITES in 2012 at COP18, leading Parties to call for additional research on the impact of international trade on songbird species. Analysis reveals a worrying reality in 2022, with only 93 out of the 1091 songbird species recorded in international trade listed on CITES – a mere 8%. 
Fast forward to CITES COP19, where TRAFFIC's research was pivotal in proposing and successfully listing the White-rumped Shama in Appendix II and uplisting the Straw-headed Bulbul to Appendix I. 
We continue to work to expand the scope of CITES to ensure the inclusion of more songbird species threatened by international trade. 
Strengthening national safeguards
Our research doesn't just contribute to combatting trade at international borders; it's a catalyst for change in-country too. 
Take the case of Oriental Magpie-robins in Malaysia, an unprotected species targeted by traffickers. Recent years have witnessed an alarming surge in seizures, with nearly 18,000 birds smuggled across national borders in 2020 alone. 
Our briefing paper, shedding light on the unregulated trade of Oriental Magpie-robins, has resonated with the government, leading to enhanced legal protection for the species. 
Changing hearts and minds
In pursuit of positive change, TRAFFIC delved into the world of songbird keepers in Viet Nam through our first consumer research study. 
The study uncovered the perceptions and motivations of songbird keepers, revealing that many engage in the hobby as a way to socialise and network at singing competitions. 
 
As Viet Nam is predominantly a Buddhist nation, we collaborated with the Vietnam Central Buddhist Association to create messages advising against owning songbirds. 
Respected Buddhist monk, Thich Thanh Huan, spoke out against the practice of caging songbirds in a series of talks. Following these talks, 60% of keepers pledged to stop purchasing, highlighting the vital role of demand reduction initiatives like these.
reports related to ASIAN SONGBIRDS
Explore the latest publications, reports and papers from TRAFFIC related to Asian Songbird conservation.
Visit our resource library for the full TRAFFIC publication archive.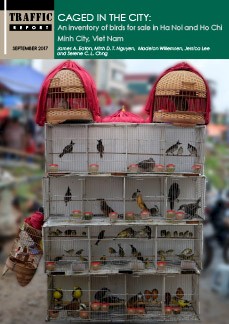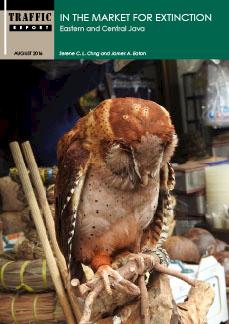 Trade monitoring
Wildlife trade monitoring is at the heart of TRAFFIC's work, supporting our projects across the world with the latest research whilst simultaneously guiding the policy recommendations we make to governments, organisations and international conventions.

Behavioural change
Changing attitudes, knowledge and consumer behaviour is a crucial element in the fight to save endangered wildlife. We're currently implementing Social and Behavioural Change Communications initiatives in Asian countries/territories to address consumer consumption.