Collective effort charts path to save Southeast Asia's songbirds in crisis
Wild Asian songbirds have long sung a troubled tune. However, thanks to a specialist conversation group researching the threats they face, that may all be about to change.
---
Prized for their singing prowess or sought as pets, songbirds are trapped in large numbers across Asia for the vast, often illegal, and unsustainable trade. The trade and its impacts were often overlooked and poorly studied until four years ago, when conservationists and researchers highlighted the problem, dubbed the Asian songbird crisis.
Since its official formation in 2017, the IUCN/SSC Asian Songbird Trade Specialist Group (ASTSG) has achieved several milestones in understanding and tackling the crisis. Much of the groundwork for this group began when TRAFFIC co-convened the first Asian Songbird Crisis Summit in 2015, a year after releasing the inventory of bird markets in Jakarta.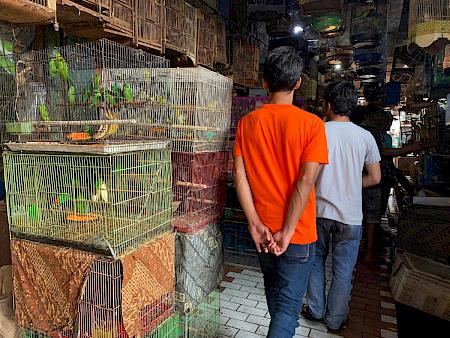 The group's work, updated in a recently released report, includes research to outline the most urgent conservation actions, update the conservation status of species in the wild and identify specific songbird populations under threat. At least 44 species have been identified as requiring conservation action. This crisis has also spurred attention from law enforcement authorities, resulting in large scale seizures.
Member organisations of this Specialist Group also worked to reduce the demand from consumers and delved into the physical and online markets to draw a clearer picture of the scale and mechanics of the illegal trade. 
TRAFFIC has contributed to the group's overall objectives and achievements through trade and consumer research across Southeast Asia, including Indonesia, Malaysia and Viet Nam.
Over two consecutive years, a survey of Bali's bird markets found a higher proportion of species originating from eastern Indonesia, sounding the alert that sourcing could be shifting to other less accessible locations as wild bird populations in usual hunting grounds dwindled.
When COVID-19 struck and strict lockdowns were implemented, TRAFFIC research showed how in Indonesia, hobbyists shifted their popular bird singing competitions onto online platforms – a stark reminder of the cultural value these birds hold even amidst a pandemic.
Earlier this year, TRAFFIC and the Department of Wildlife and National Parks Peninsular Malaysia jointly published an analysis highlighting the high volumes of Oriental Magpie-robins Copsychus saularis smuggled from Malaysia to feed international demand, with close to 18,000 birds smuggled in 2020 alone. Another report shared novel findings from consumer surveys of songbird keepers in Viet Nam and a subsequent behaviour change initiative with the Vietnam Central Buddhist Association.
The large body of work showcases the investment organisations have made to clearly map our collective knowledge on such a complex problem. But this knowledge must translate into action and change on the ground if songbirds are to stand a fighting chance of surviving."
Kanitha Krishnasamy, Director for TRAFFIC in Southeast Asia
The report also briefly outlines the direction and plans for the group in upcoming years.
"TRAFFIC's songbird trade work aligns with ASTSG priorities," said TRAFFIC programme officer Serene Chng, who is also the co-coordinator of the group. "By complementing other ASTSG members' efforts, we can maximise our impact and influence in ensuring that the trade of Asian songbird is legal and sustainable."
---
Notes:
IUCN/SSC Asian Songbird Trade Specialist Group (ASTSG):
---
About IUCN

The International Union for Conservation of Nature (IUCN) is a membership Union uniquely composed of both government and civil society organisations. It provides public, private and non-governmental organisations with the knowledge and tools that enable human progress, economic development and nature conservation to take place together.