Zimbabwe moves to tighten ivory trade controls
Hahare, Zimbabwe, 23rd August 2010—The government of Zimbabwe has revoked the right of licensed domestic ivory traders to issue "Short Export Permits" at the time ivory products are legally purchased as souvenirs. 
---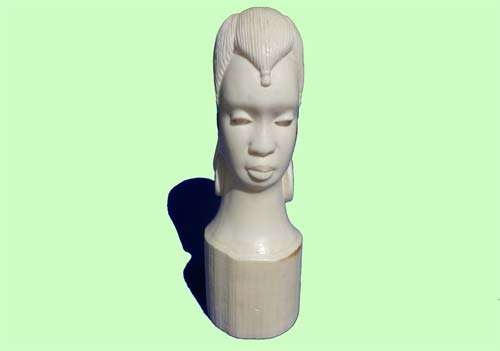 The move will stop abuse of the legal trade in ivory souvenirs. 
"Zimbabwe believes in sustainable and legal wildlife trade, but we will not tolerate unscrupulous individuals who abuse the system", said Mr Vitalis Chadenga, Director General of Zimbabwe Parks and Wildlife Management Authority. 
"We are committed to curtailing any illegal trade in ivory from our country and request the co-operation of the global community to help us achieve that objective."
All Parties to CITES (the Convention on International Trade in Endangered Species of Wild Fauna and Flora) have been asked not to authorize the import of ivory carvings when an individual presents a Short Export Permit from Zimbabwe. 
Formerly, such Permits were supplied by Zimbabwe's CITES Management Authority to licensed curio traders who could issue the document to souvenir buyers at the time of purchase. 
CITES Parties have authorized such trade in ivory carvings from Zimbabwe for non-commercial purposes since 1997, when the country's elephant population was transferred to Appendix II of the Convention. 
But that decision did not allow trade in raw ivory, which was never intended to be covered by the Short Export Permit system.
However, documented cases have come to light whereby unworked elephant tusks were being illegally offered for import to a number of countries using Short Export Permits. 
Now anyone wishing to take ivory carvings out of Zimbabwe will need to obtain an export permit from one of three CITES Management Authority offices in Harare, Bulawayo or Victoria Falls. 
"TRAFFIC applauds the Zimbabwe government for this positive development," said Tom Milliken, Regional Director of TRAFFIC's programme for east and southern Africa. 
"It's the right thing to do and sends a clear message against illegal trade practices."
Earlier this year, the Elephant Trade Information System (ETIS) report prepared by TRAFFIC on behalf of CITES Parties noted the Zimbabwe government had previously suspended trade in ivory products because of abuse of the regulatory system. 
The rule changes were announced through an official Notification to all CITES Parties issued by the Convention's Secretariat on 16 August (Notification No. 20010/024).
Zimbabwe has the third largest elephant population in Africa, with nearly 100,000 animals, according to the African Elephant Database of the IUCN/SSC African Elephant Specialist Group.
---