Would-be wildlife smuggler gets three bags full
Bangkok, Thailand, 10th February 2011—A man who went on a wildlife shopping spree in Bangkok's Chatuchak Market was detained by authorities at the Suvarnabhumi International Airport yesterday as he tried to smuggle his haul—that included live snakes, tortoises, squirrels, spiders, lizards and even a parrot—out of the country inside three suitcases.
---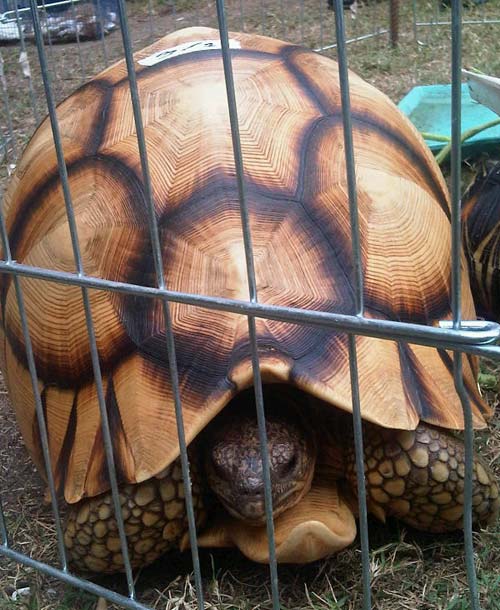 The Indonesian man was stopped after the regular luggage scanning process at the airport showed images of an array of animals stuffed inside his three black bags.
The Airports of Thailand officer who noticed the suspicious items alerted a National Parks, Wildlife and Plant Conservation Department officer who checked the bags and detained the suspect.
The 34-year old had stuffed 88 Indian Star Tortoises, 33 Elongated Tortoises, seven Radiated Tortoises, six Mata Mata Turtles, four Southeast Asian Narrow-headed Softshell Turtle, three Aldabra Tortoises, one Pig-nosed Turtle and even one Ploughshare Tortoise—the worlds' rarest tortoise.
Alongside these, he packed 34 Ball Pythons, two Boa Constrictors, several Milk Snakes, Corn Snakes and King Snakes as well as a Hog-nosed Snake. 
The suspect also had 19 Bearded Dragons, four Spiny-tailed Lizards, two Sunda Plated Lizards, six Argentine Horned Frogs.
He also managed to fit in 18 Baboon Spiders, each in its own plastic container, 22 Common Squirrels and one African Grey Parrot into his luggage.
The suspect, from Surabaya in Indonesia, admitted to authorities that he had purchased the animals from Chatuchak Market. He was scheduled to board an Air Asia flight home when his illegal loot was discovered. 
He is in police custody and is expected to face charges under Sections 19, 23 and 24 of the Wildlife Preservation and Protection Act B.E. 2535. He could also be charged under the Animal Epidemics Act B.E. 2499 and the Customs Act B.E. 2469.
Commenting on the interdiction, TRAFFIC Regional Director, William Schaedla was appreciative of Thailand's Airport Authorities for their diligence, but also expressed outrage about the open availability of so many protected animals. 
"It speaks well of a few alert enforcement authorities when such seizures happen. The Airport Authority is to be commended. However, one really has to question how Chatuchak Market, which is located just down the street from both Wildlife Protection and Nature Crime Police Offices, can continue these illegal mass sales. 
"Frankly, the situation is totally unacceptable in a country that claims to be effectively addressing illegal wildlife trade," he said.
Chatuchak is a major hub for some of the world's rarest species in trade. Despite numerous reports to the authorities, illegal trade continues every weekend on an open basis. 
Some retailers have openly acknowledged to TRAFFIC staff that many of the species they sell have been illegally obtained and even offer advice on how to smuggle them out of the country, in contravention of national laws and the Convention on International Trade in Endangered Species of Wild Fauna and Flora (CITES).
The illicit trade in rare tortoises from Thailand came under the spotlight earlier this week, when authorities in the UK reported the seizure of eight Indian Star Tortoises in a parcel flown from Thailand to a sorting office in Coventry.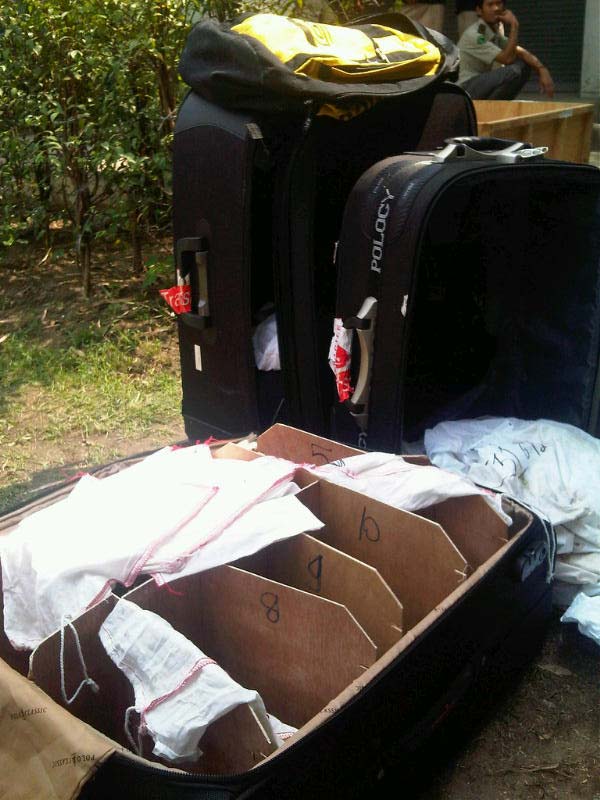 The list of seized animals:
Ploughshare tortoise 1
Ceratophrys ornate (Argentine horned frog) 6 
Radiated tortoise 7
Indian Star Tortoise 88
Common squirrel 22
Mata Mata Turtle 6 
Bearded Dragon 19
Aldabra Tortoise 3 
Theraphosidae (baboon spider) 18
Pig-nosed Turtle 1
Elongated Tortoise 33
African Grey Parrot 1
Ball Python 34
Boa Constrictor 2
Milk Snake 1
Corn Snake 2
King Snake 2
Lampropeltis zonata (kingsnake) 1
Lampropeltis calligasta (kingsnake) 1
Hog nosed snake 1
Spiny-tailed Lizard (Uromastyx ) 4
Sudan Plated Lizard 2
Chitra 4
---