Viet Nam earns its stripes for Global Tiger Day
Ha Noi, Viet Nam, 29th July 2011—Viet Nam celebrates the second annual Global Tiger Day today with a number of public awareness raising events and workshops aimed to support Tiger conservation and call for an end to the illegal Tiger trade. 
---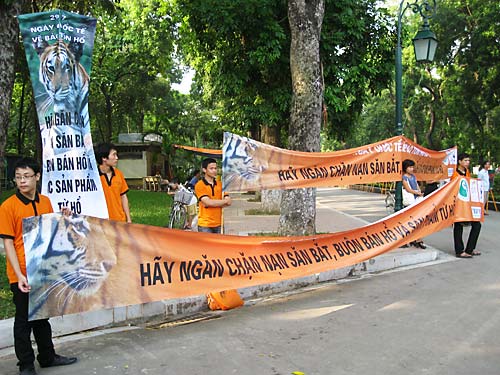 Only an estimated 3,200 wild Tigers survive worldwide, their population having decreased by about 95 percent and their range by 93 percent since 1900. This steep decline is mainly due to heavy poaching and the illegal trade in Tigers to supply a thriving black market for their parts, as well as loss of habitat and prey animals. 
Viet Nam is a significant market for Tiger products, as illegal medicines made from Tiger bone and Tiger wines have become popular, especially among the wealthy, because of their supposed curative powers. 
The demand for Tiger parts in Viet Nam has led to animals being smuggled in from elsewhere in the region. In March and June of last year, three Tigers sourced from Lao PDR were seized in Viet Nam, believed to be intended for further domestic distribution. The country is also a transit point for a range of illegal wildlife products, including Tiger products, being smuggled to China from other countries.
29th July was first declared Global Tiger Day last year, preceding the 2010 St Petersburg Tiger Summit, which brought together leaders from Tiger range countries to commit to doubling the Tiger population by 2022. It is a day dedicated to highlighting the plight of Tigers and supporting their conservation across the 13 Tiger range countries.
"Tigers are integral to maintaining healthy, balanced forest landscapes, yet they remain at high risk of becoming extinct in the wild. Viet Nam has lost most of its wild Tigers, so it's most important contribution at the moment is to play a part in halting the illegal international Tiger trade and domestic consumption of Tigers. It's as simple as that," said Nick Cox, Regional Manager of WWF's species programme.
Viet Nam's Global Tiger Day activities will focus on reducing the demand for Tiger products and promoting the conservation of wild Tigers. Events include exhibitions, a Tiger film, children's activities, performances and a concurrent workshop with officials to discuss progress thus far in Tiger conservation and next steps. 
"Some people simply cannot see the value in Tigers beyond their use in tonics," said TRAFFIC Southeast Asia Regional Director, Dr William Schaedla. "One goal of these awareness raising events is to change public attitudes to stop consumption and instead support saving Tigers in the wild." 
"Tigers have long played an important role in our culture and in our ecosystems. Viet Nam sees Global Tiger Day as an opportunity to increase public appreciation for this iconic species and to further discuss real solutions for its long term survival," said Ms Hoang Thi Thanh Nhan, Deputy Director of Biodiversity Conservation Agency, Viet Nam Environment Administration.
The celebrations are being hosted by the Viet Nam Environment Administration under the Ministry of Natural Resources and Environment, with support from WWF, TRAFFIC, and the Global Tiger Initiative (GTI)—a global alliance of governments, international agencies, civil society, and the private sector working together to save wild Tigers from extinction.
According to Mr Keshav Varma, Program Director of GTI, who will be speaking at the event, "The continuous demand for Tiger parts and the surge in illegal trade are unacceptable. If demand and trade are not stopped, the last remaining Tigers in Indo-China will be wiped out within a few years."
"At the St. Petersburg Tiger Summit in November 2010, heads of governments from the Tiger range countries made an historic commitment to eradicate poaching and illegal trade.  Governments now have to act with resolution to implement that Declaration and to act with resolve to put the heat on poachers and illegal traders. This will certainly require transnational and regional co-ordination, which the GTI will support," added Mr Varma.
Following the event, early next week (2nd-4th August, 2011), international experts from the 13 Tiger range countries will attend a workshop in Ha Noi to discuss the implementation of the Global Tiger Recovery Programme (GTRP). The GTRP is an overarching plan among the Tiger range countries to double the number of wild Tigers by 2022. 
All 13 Tiger range countries are expected to develop and implement a National Tiger Recovery Program under the GTRP.
---