Turtle poachers apprehended
Kota Kinabalu, Malaysia, 29 March 2007—For the second time in three days, Chinese fishing boats in Malaysian waters off Sabah have been seized carrying cargoes of endangered marine turtles. On 26 March, a boat carrying 72 mixed Green and Hawksbill turtles was apprehended and six people arrested. Three days later, poachers were caught red-handed with a cargo of 220 Green and Hawksbill Turtles.
---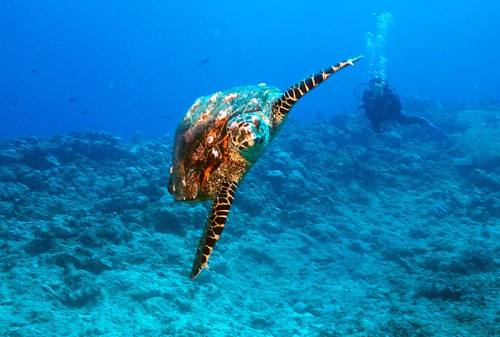 Chris Shepherd, Senior Programme Officer for TRAFFIC South-east Asia commented: "WWF-Malaysia and TRAFFIC Southeast Asia applaud the success of the Sabah Marine Police and encourage them and other enforcement agencies to continue their efforts."
"We urge the authorities to prosecute these poachers to the full extent of the law. If there is no deterrent, killing of these endangered species will continue unabated."
In Sabah, all species of marine turtles are protected under the Fisheries Act and the Wildlife Enactment laws. Violations of the Wildlife Enactment carry a penalty up to MYR50,000 (US$14,500) and/or five years in jail.
WWF-Malaysia and TRAFFIC South-east Asia are encouraging the authorities to return any surviving turtles from the latest seizures to the wild as soon as possible. WWF-Malaysia's Chief Technical Officer (Borneo Programme) Dr Rahimatsah Amat urged the authorities to prevent such boats entering and operating in Malaysian waters, to deny them the opportunity to catch marine turtles.
Hawksbill and Green turtles are among the five species in Malaysia that are threatened by killing and trade, both major causes of their continual decline in the country. Marine turtles in South-east Asia are a key conservation issue according to a State of the Worlds Sea Turtle report published in 2006.
Marine turtles are listed on Appendix I of the Convention on International Trade in Endangered Species of Wild Fauna and Flora (CITES), which stipulates that no marine turtles may be taken across international borders, except under very special circumstances, with permits, and not for commercial trade. Previously, fishermen from China have been apprehended in the region for poaching marine turtles. In May 2004, marine police arrested 16 fishermen from Hainan after discovering around 160 dead marine turtles aboard a trawler. In 2005, more than 100 marine turtles were seized from a Hainan trawler which encroached into Malaysian waters off Labuan. On 19 March 2005 a Chinese boat was apprehended with Green and Hawksbill Turtles in Berau, East Kalimantan, Indonesia.
In response to the rising number of such cases in South-east Asia, authorities from the ten ASEAN countries launched the ASEAN Wildlife Enforcement Network (ASEAN-WEN) to improve domestic and cross-border efforts to stop illegal wildlife trade.
WWF-Malaysia hopes the Indonesian, Malaysian, and Philippines governments will highlight this issue of foreign fleets killing turtles during their Sulu-Sulawesi Marine Ecoregion (SSME) Annual Tri-national Committee Meeting this April in Kota Kinabalu.
For further information:
Chris R. Shepherd, Senior Programme Officer, TRAFFIC South-east Asia, Tel: +603 78803940, Email: Enable JavaScript to view protected content.
Eza Dzul Karnain, Media & Public Affairs Coordinator, WWF-Malaysia, Tel: +603 78803992, Email: Enable JavaScript to view protected content.
Postscript: on 12 April 2007, the skipper and crew of the Chinese trawler found with 274 marine turtles aboard were fined more than RM1.88 million (US$55,000). The men, who had all pleaded guilty, were unable to pay and were jailed for between six and 18 months each in default.
---