TRAFFIC warns of European Eel trafficking surge as fishing season gets underway
Cambridge, UK, 15th November 2019—TRAFFIC is warning of a surge in international glass eel smuggling cases as the new fishing season gets underway across Europe, and urges enforcement authorities to maintain their vigilance and ensure those catching eels are doing so legally.
---
Fishing of young European Eels Anguilla anguilla—so-called "glass eels"—is permitted in European waters at certain times of the year: the exact dates vary by country but usually run sometime between November and May the following year. Glass eels are then traded for farming, restocking or consumption within the European Union (EU).
The European Eel is considered Critically Endangered on the IUCN Red List and their international commercial trade to or from the EU was stopped in December 2010 after the EU concluded it was too risky to allow it to continue and imposed a zero-import/export policy, which still remains in place. 
Prior to that, permit-regulated international trade was allowed under an Appendix II listing in the Convention on International Trade in Endangered Species of Wild Fauna and Flora (CITES) and the equivalent Annex B listing on the EU Wildlife Trade Regulations, which came into force in March 2009. 
Despite these measures, according to Europol, during the 2018 to 2019 fishing season, some 5,789 kg of European Eels illegally in trade were seized and 154 suspected smugglers arrested. The glass eels are taken to Asia where they are grown into adults for human consumption. Just last month, authorities in France seized 90 kg of glass eels at Paris-Charles De Gaulle airport en route from Southwest France to China. 
Illegal trade in European Eels, particularly glass eels, is the most serious wildlife crime issue the EU currently faces
– Hiromi Shiraishi, TRAFFIC's eel trade expert."Traffickers exploited the last fishing season as an opportunity to smuggle glass eels to lucrative Asian markets and while TRAFFIC applauds the professional and intelligence-led criminal investigations which helped to disrupt the organised criminal syndicates orchestrating the trafficking, TRAFFIC urges relevant authorities to ensure they prevent further smuggling this season—European Eel populations simply cannot withstand the sustained illegal offtake."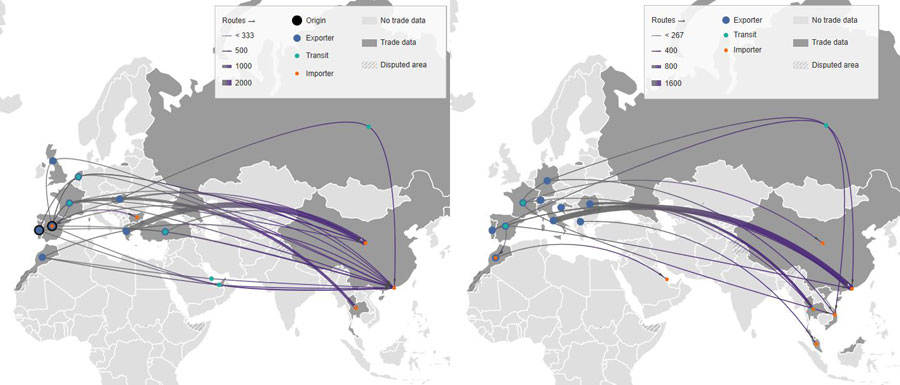 Recent seizure data compiled by TRAFFIC implicate several EU Member States in illegal exports in recent years, increasingly to Southeast Asia—including Viet Nam and Thailand—which may be acting as a transit hub before re-export for farming in East Asia.
"International trafficking routes are fluid and can only be effectively brought under control through enhanced international enforcement co-operation backed up by strong deterrent penalties for those convicted of criminal activities," said Shiraishi. 
Illegal trade in eel meat is also a concern. Following the illegal export of glass eels to Asia and their growing out in farms, European Eel meat could be imported into the EU and other markets, falsely declared as other species of eel. 
At the 18th meeting of the Conference of the Parties to CITES (CITES CoP18) last August, European Eel range states were asked to develop and implement measures to improve the traceability of eels in trade.
"The development of a harmonised European-wide traceability system for European Eel is a prerequisite to ensuring eel trade is kept on the straight and narrow," said Shiraishi. 
---