TRAFFIC helps bolster wildlife law enforcement in West Bengal and Tripura
India, 8th August 2014 – Two workshops on 'Strengthening Wildlife Law Enforcement and Conservation' were hosted in the north-east of India last month by TRAFFIC to raise awareness about illegal wildlife trade. 
---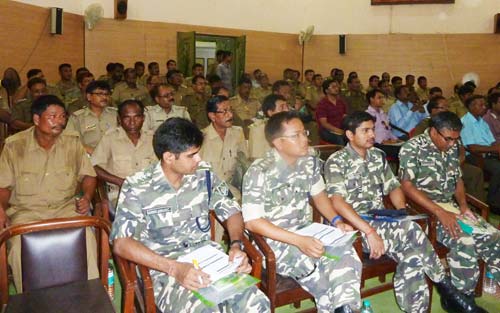 The first – an Orientation Programme on wildlife laws – was held in Tripura and brought 55 judicial officers and 12 forest officers together to familiarise the judiciary and other participating agencies about illegal wildlife trade and garner their support in wildlife protection and conservation. 
Justice Madan B Lokur from the Honorable Supreme Court of India inaugurated the meeting and said, "Judicial support is crucial for helping eradicate illegal wildlife trade and wildlife crimes in the country. Judiciary is the pillar that helps balance environment and development.  Therefore it is important that we keep ourselves updated with the changing laws and other enforcement scenarios". 
Later in the month a second workshop – a Capacity Building Programme – was hosted in partnership with WWF-India and Buxa Tiger Reserve in West Bengal and was attended by over 100 enforcement officers and local NGOs. The workshop aimed at bolstering protection measures at the reserve and securing cooperation from various stakeholders to curb wildlife crime in the region.
Mr Virendra Kumar, IRS, Divisional Railway Manager, Alipurdar Division who inaugurated the Capacity Building Programme said the training would be of immense help in curbing wildlife crime through creating awareness of and exposing officials to the new techniques adopted by wildlife criminals. 
In both workshops experts spoke about the protocols for wildlife crime investigation and guidelines for filing complaints and other court cases. Specialised training sessions on wildlife forensics and use of metal detectors to detect traps set by poachers were also held. 
Participants received resource materials such as reports on techniques and tools used to combat wildlife crime, important law books and customised wildlife forensic field kits.
It is hoped that the workshops will improve conviction rates in wildlife crime prosecution cases, and strengthen law enforcement and protection to areas in India that have become hubs of illegal wildlife trade. 
Tripura and Buxa Tiger Reserve in West Bengal are both close to international borders, making them particularly sensitive zones to wildlife smuggling, a huge threat to the rich biodiversity found in these areas. Smugglers are known to target iconic species such as the Clouded leopard, Spectacled Monkey and Asiatic Black Bear as well as less well known species such as the pangolins.
---