TRAFFIC champions Taskforce on Nature Markets Final Report and Recommendations released today
The Final Report – a culmination of extensive research and collaboration, including from TRAFFIC – presents seven ambitious recommendations including addressing the harmful impacts of nature crimes and securing improved economic benefits for nature's stewards to transform current economic models into sustainable nature markets.
---
Following two days of experts and stakeholders discussing environmental investment strategies, how to combat deforestation, protecting Indigenous peoples and local communities, and promoting sustainable development in the Amazon region, the Taskforce on Nature Markets is launching its final report as part of its 'Innovation, Finance & Nature' event in Belém, Brazil.
The report emphasises the urgent need to mobilise billions of dollars for nature's protection and fairer distribution of economic rewards to those who safeguard it. It highlights the crucial role of engaging nature's stewards, including nature-rich sovereign nations and groups of Indigenous Peoples and local communities, in the formulation and execution of solutions to the ongoing nature crisis.
TRAFFIC champions the messages of this report. Working at the nexus of many actors in nature market supply chains, from ground-level sourcing, logistics, and finance all the way to national and international policy levels, TRAFFIC reiterates a key report message that 'any solution to the nature crisis will not succeed without engaging nature's stewards.'
Working with actors in every aspect of the global wild species supply chains, we have embedded actions into our 2030 strategy to support the creation of a sustainable foundation through meaningful engagement and support of Indigenous Peoples and local communities that steward 80% of the natural world."
Richard Scobey, Executive Director of TRAFFICThe report also addresses the pressing issue of illegal nature markets, calling for multi-faceted solutions from 'Top-Down to Bottom-Up Governance' to combat this illicit trade.
As a Taskforce for Nature Finance Knowledge Partner, TRAFFIC recently released a report featuring real-life case studies that highlight the critical role of the business and finance sectors in facilitating strong nature markets to eliminate the demand for illegal and unsustainable trade. The TRAFFIC report includes a set of recommendations, including Follow the Money initiatives.
TRAFFIC hopes that policymakers and financial institutions will take heed of both reports' recommendations and work towards a future where nature markets thrive, and biodiversity is protected.
---
About Taskforce on Nature Markets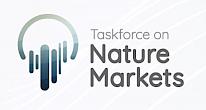 The Taskforce on Nature Markets' core objective is to shape a new generation of purposeful nature markets that deliver nature positive and equitable outcomes.
The Taskforce is an initiative of, and hosted by, NatureFinance (previously the Finance for Biodiversity Initiative - F4B). It benefits from the broader portfolio of NatureFinance's work and the extensive knowledge of its partners and networks. The Taskforce is supported by the MAVA Foundation.
Find out more about the Taskforce on Nature Markets, its members, partners, work programme and how to get involved at www.naturemarkets.net