Timber legality training workshops held in Cameroon
Cameroon, October 2020—last month two train the trainer workshops on timber legality issues took place in Cameroon, in Douala and Nkolandom respectively. 
Participants were taken through the contents of six training modules developed with the technical support of the Network of Forestry and Environmental Training Institutions of Central Africa (RIFFEAC). The modules covered: legal timber in the Congo Basin; the timber value chain; timber traceability in the supply chain; timber trade; certification of timber; and the legality verification systems.
---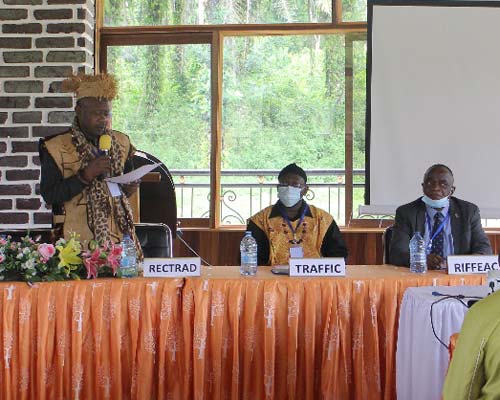 The first workshop held in Douala brought together 35 participants comprising law enforcement officials from the Ministry of Forestry and Wildlife and Customs; representatives of civil society organisations; traditional rulers representatives of local communities; and the private sector. 
The second workshop held in Nkolandom brought together 45 participants including 32 from local communities/local organisation representatives plus representatives from civil society organisations and the Ministry of Forestry and Wildlife. 
"We need to build our capacity as customs officials to be able to ensure that we are in agreement with the Ministry of Forestry and Wildlife on the control of the legal compliance of our timber. This training course is therefore timely to equip us to do our job better," said Mrs. BEGNE Jeanne Georgia, Visiting Custom Inspector in Douala Port 7.
The workshops presented a rare opportunity for communities and community-based organisations to gain a better understanding of the forestry laws and processes involved in ensuring the legality of timber derived from community forests. 
"Through this training we will gather the necessary tools and understanding to fight  illegal timber trade along the value chain, thereby ensuring the legality of timber and its derivatives from our villages and communities." said His Majesty MVONDO Bruno, President of ReCTRAD.
ReCTRAD is the The Network of Traditional Rulers of Africa for Environmental Conservation, and Sustainable Management of Forests Ecosystems, and are gratefully acknowledged for their  logistical support for the workshop as are RIFFEAC for their technical assistance with developing the six modules. 
The training took place under the "Reinforcing Chinese Government and industry action to reduce illegal timber exports from Cameroon, Viet Nam and other transit countries. Phase II", project supported by the UK Government's Foreign, Commonwealth & Development Office. 
 
---
About FCDO

Foreign, Commonwealth & Development Office. Find out more about them here.