Tiger range countries reach Kunming Consensus on transboundary conservation measures
Kunming, China, 6th August 2013—Representatives of 12 the 13 Tiger range countries meeting last week in Kunming reached agreement on measures to improve management of transboundary landscapes and combat illegal wildlife trade in wild Tigers. 
---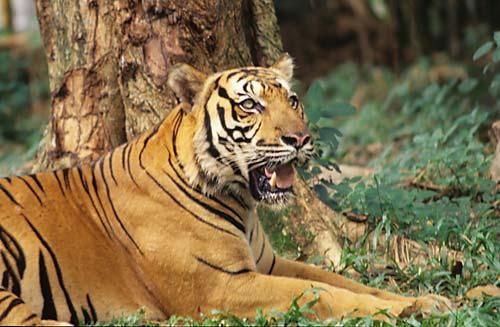 The 'Kunming Consensus', an output of the international meeting on transboundary conservation of Tigers and other endangered species, is aimed at advancing earlier commitments made by Tiger range countries, and endorsed by Heads of State, through the St Petersburg Declaration and through a follow-up agreement, the Thimphu Agenda. All are aimed at achieving Tiger range countries' overall goal of a doubling of wild Tiger numbers to 6,000 animals by 2022 ("Tx2"). 
Earlier the same week, Nepal revealed Tiger numbers in the country had risen to 198 (range 163–235), an increase in the population by 63% from the last survey in 2009. 
"Nepal is leading the way and is to be congratulated on this significant progress in doubling its wild Tiger population," said Mike Baltzer, Leader of WWF's Tigers Alive Initiative. 
Key to achieving Tx2 across all Tiger range countries is conservation of wild Tiger habitats shared across national borders. There is more than three times as much potential Tiger habitat in transboundary landscapes (920,000 km2) than in any single country's landscape (270,000 km2). The Consensus recommends the countries research how best to ensure management of their transboundary landscapes is effective in the long-term. 
However, habitat conservation measures could be seriously undermined by the ongoing illegal trade in Tigers, with poaching of wild Tigers for their bones other body parts and even the trafficking of live animals a serious and persistent threat. Earlier this year, TRAFFIC and WWF released a joint report into the trafficking of Tiger parts in Tiger range countries. Skin and Bones Revisited found that parts of at least 1,425 Tigers were seized across Tiger range countries between 2000 and 2012 together with increased recording of seizures involving live Tigers in recent years: 61 individuals were seized from 2010 onwards, doubling the total seized since 2000. 
The Kunming Consensus therefore makes a number of recommendations to combat the illegal trade in Tigers and Tiger parts, including the use of innovative enforcement methods, improving enforcement capacity through training, and crucially, improving information sharing and international co-ordination between enforcement and other agencies. 
"Transboundary habitat management and shared enforcement action to bring down criminal networks running the Tiger trade: there could hardly be more compelling reasons as to why international co-operation is absolutely fundamental to achieving the goal of doubling wild Tiger numbers by 2022," said Natalia Pervushina, Tiger Trade Programme Leader for WWF's Tigers Alive Initiative and TRAFFIC. 
The Kunming Consensus also makes recommendations regarding efforts to reduce demand for Tiger parts, through understanding the market for such items and developing measures to dissuade their consumption. 
"Enforcement efforts to stem poaching and trafficking may be futile without complementary efforts to reduce demand for illegal Tiger products," said James Compton, TRAFFIC's Senior Programme Director for Asia.
"TRAFFIC is therefore pleased to see recommendations on implementing demand reduction efforts included in the Consensus and trust that range countries will make full use of the Tiger demand reduction strategy endorsed by range countries at the Global Tiger Recovery Programme stocktaking meeting in New Delhi in 2012." 
The International Workshop for Transboundary Conservation of Tigers and Other Endangered Species and the Strategy to Combat Illegal Trade in Wildlife was convened and hosted by the Department of Wildlife Conservation and Nature Reserve Management of the State Forestry Administration (SFA) of China, in Kunming, China, from 29th‐31st July 2013. The CITES Management Authority of China, China Wildlife Conservation Association, Global Tiger Initiative and the World Bank, Save China's Tigers Special Fund of China Green Carbon Foundation, and WWF co‐sponsored the Workshop.
Myanmar was the only Tiger range country not represented at the meeting. 
---