Three Critically Endangered tigers among illegal wildlife parts seized by Malaysian authorities
Kuala Lumpur, Malaysia, 6th July 2018—Parts of three Critically Endangered tigers were among dozens of wildlife skins, horns and teeth seized in Malaysia, just weeks away from Global Tiger Day.
---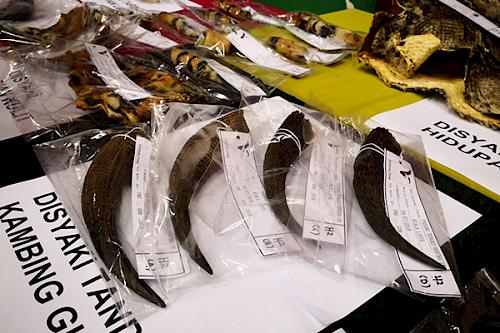 The tiger parts, a Clouded Leopard skin and parts of several fully protected species such as bears and serows were seized from six Vietnamese nationals during a raid in the town of Kuala Lipis, Pahang located about half an hour away from Taman Negara, the country's premier national park.
The Department of Wildlife and National Parks Peninsular Malaysia (Perhilitan) who conducted the raid said they were investigating to find out whether the tigers were taken from forested areas near the park.
"From the size of the skins it seems like this was one family of tigers. We estimate around 3 tigers were killed. We will be checking against camera trap photos of tigers in the area to see if these skins came from animals in the area," said Perhilitan Director-General Datuk Abdul Kadir Abu Hashim at a press conference today.
Malaysia is home to an estimated 250-340 wild tigers. As with other wild tiger populations worldwide, they face tremendous threats from illegal hunting and poaching.
A TRAFFIC study found that Malaysian enforcement agencies have seized an equivalent of 103 individual tigers between 2000–2015. In 2016, Perhilitan seized two dead tigers in two separate seizures and rescued a third from a snare.
The Director-General also raised concern at the discovery of wire snares at the site of the arrests. This year the Department mounted a national campaign against snare use and has removed over 560 wire snares in the first five months of 2018.
The suspects will likely face charges for both illegal possession of (fully protected) wildlife and use of illegal snares under Peninsular Malaysia's Wildlife Conservation Act 2010, which carries a mandatory jail penalty for tiger related offences and stiff fines for snare use.
"This is a significant seizure and we congratulate Perhilitan on their successful investigations. But this loss is heartbreaking for Malaysia's wild tigers
Kanitha Krishnasamy, Acting Regional Director for TRAFFIC in Southeast Asia.
"We urge the Federal Government to act with urgency and support ongoing efforts to keep Malaysia's national symbol, as well as the national parks where they roam, free from poachers," she said.
Kadir said the Vietnamese nationals apprehended were believed to be dedicated tiger poachers.
This is not the first case of Vietnamese nationals caught with tiger parts in Malaysia. On 26th August 2017, Perhilitan officers stopped a Vietnamese national in the State of Perak with over 200 suspected wildlife parts of totally protected species including 17 pieces of tiger claw and eight pieces of tiger teeth.
In September 2016, eight Vietnamese nationals were arrested during a series of raids that saw hundreds of wildlife parts seized including pangolin scales, tiger skins, bear parts and hornbill casques and beak tips.
The six suspects were arrested during the raid on July 4th and are being held under remand for seven days for investigations. They are expected to be taken to court after July 11th.
The 61 individual parts seized in the raid consisted of two tiger skins, 10 smaller pieces of tiger skin, one Clouded Leopard skin, seven bear teeth, 20 bear claws, four serow horns, several serow tails, 12 wild boar teeth, a piece of python skin and 39 kg of meat.
---