Thailand steps up efforts to tackle illegal ivory trade
Bangkok, Thailand, 24th September—A recent high-profile ivory seizure, a review of national legislation, and the initiation of training courses for both government staff and ivory traders are indications of the commitment being shown by the Thai Government to tackle the illegal ivory trade, according to TRAFFIC.
---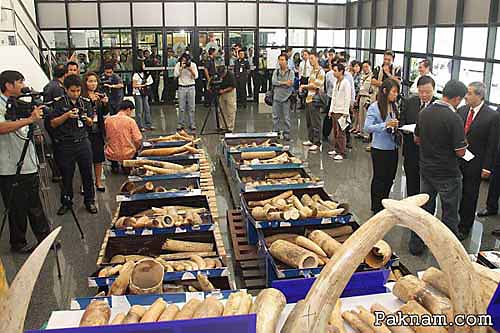 The seizure, by the Royal Thai Customs Department, took place during the third week of August at the Suvarnabhumi International Airport, when, according to the Thailand CITES Management Authority, 316 pieces of raw ivory weighing 812.5 kg illegally imported from Qatar were confiscated.
In order to help track the domestic ivory trade in Thailand, in August last year the Government introduced legislation requiring ivory traders to maintain and updated inventory their stock and to have this available for review by authorities as required.  
The Government is also beginning a review of the Wildlife Animal Reservation and Protection Act (WARPA 1992). The Act contains a loophole that allows illegal trade to flourish in the country. 
The flaw in the legislation was highlighted in TRAFFIC's recent report, The elephant and ivory trade in Thailand which also detailed the results of market surveys for ivory 
carried out in 2006 and 2007. 
"The government of Thailand is clearly demonstrating its commitment to addressing the illegal trade in ivory, although there is a long way to go before satisfactory measures are in place," says Chris R  Shepherd, Acting Director of TRAFFIC Southeast Asia. 
Recently the Department of National Parks, Wildlife and Plant Conservation (DNP) initiated a series of training courses to raise awareness among its staff about Thailand's obligations under existing national legislation and under the Convention on International Trade in Endangered Species of Wild Flora and Fauna (CITES) to control and manage ivory trade.
Thailand became a Party to CITES in 1983. 
The first course was organized in Nakorn Sawan Province, and to help ensure buy-in from the private sector, ivory traders were invited to participate. TRAFFIC was invited to run a session on the identification of ivory for DNP staff. 
"It was very encouraging to see the enthusiasm of the participants, and to see that more than 80% of the ivory and substitute ivory products used to test DNP staff were identified correctly," says Shepherd.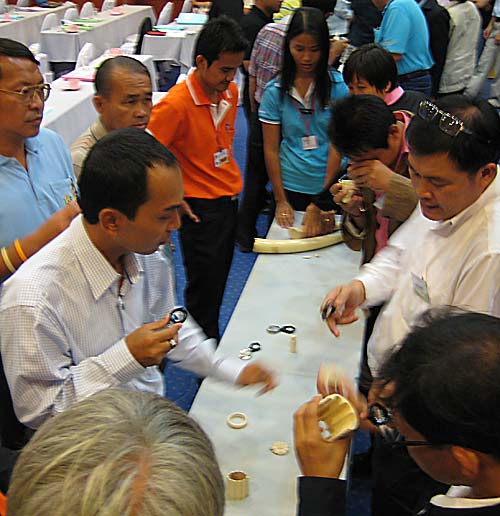 The second course in Sara Buri Province was a three day event aimed at raising awareness among enforcement agencies about Thailand's obligations under CITES and the importance of developing an effective coordination mechanism to report ivory seizures. A session was also included to help enforcement officers distinguish between real and fake ivory (usually bone and plastic resins) and between elephant (CITES listed) and mammoth ivory (non CITES listed).
TRAFFIC, in collaboration with the CITES Secretariat, has developed the Elephant Trade Information System (ETIS), a database that collates information on all ivory seizures reported worldwide. 
Analysis of ETIS records helps in the assessment of how elephant range States are fulfilling their 
commitment under the Convention, and has consistently identified Thailand as one of the top five countries implicated in the illegal trade of ivory. 
Among countries in the region, Thailand plays the most significant role in the illegal trade in ivory and other elephant products, with trade in live elephants also a serious issue. 
Although the trade in ivory and elephant products is not a new phenomenon—in Thailand, records go back as far the Sukhothai period (1238-1376 A.D.) — Asian Elephants are declining across their range, with the illegal trade in ivory a major contributing factor. 
TRAFFIC has offered to provide technical support to help Thailand fulfill its obligations under CITES, ETIS and in the enforcement of strengthened national legislation. 
Thailand is one of the 175 Parties expected to attend the next full meeting of CITES, which takes place next March in Qatar where concern about the trade in ivory and other elephant products will once again feature on the agenda.
"The seizure by Thai Customs of more than 800 kg of ivory illegally imported from Qatar last month could hardly be of greater significance for Thailand to signal its international commitment to implementing the treaty fully," says Shepherd. 
---