Thai Customs gear-up to fight ivory trafficking
Bangkok, Thailand, 13th December 2010—Customs Authorities in Thailand have teamed-up with TRAFFIC Southeast Asia to raise awareness among Customs Officers based at airports and other key checkpoints about ways to tackle the illegal ivory trade.
---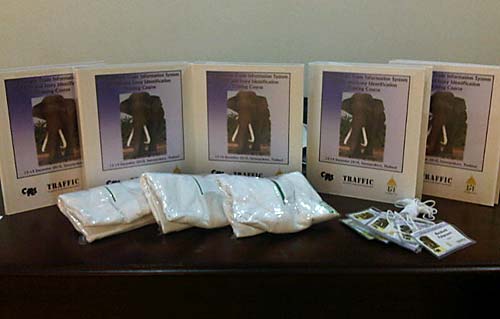 Already this year, Royal Thai Customs officers at Bangkok's Suvarnabhumi International Airport have intercepted close to 4.5 tonnes of ivory, all of which is believed to have originated from Africa. Almost half of the total was seized in a single bust comprising 239 tusks in February. 
"In order to suppress the illegal ivory trade completely, the Royal Thai Customs is conscious that good co-operation both internationally and domestically is the most effective way to uncover any illegal shipments among the 5,000 transiting the airport each day. Teaming up with TRAFFIC will help bring us up-to-date on the latest ways to ensure criminals don't avoid detection. Further, this workshop will benefit all Customs officers at the operational level to offer them support and to exchange work experiences too," said Mr. Tanat Suvattanametakul, Director of Suvarnabhumi Airport Cargo Clearance Customs Bureau.
Workshop participants will be taught how to differentiate real from fake ivory, about the importance of co-ordinating with other government agencies in reporting ivory seizures to the Elephant Trade Information System (ETIS), which TRAFFIC manages on behalf of Parties to CITES (the Convention on International Trade in Endangered Species of Wild Fauna and Flora), about implementation of the Convention itself. 
"This type of training should be institutionalized into existing curricula so that all newly graduated Customs officers are fully aware of the issues," said Mr. Suvattanametakul. 
The two day workshop between 13–14 December will involve more than 40 participants drawn from various Customs Departments who will receive training from national experts and technical resource staff from TRAFFIC Southeast Asia. 
"TRAFFIC is pleased to help with Thailand's efforts to step up the fight against the illegal trade in ivory and other endangered wildlife products," said Chris Shepherd, Deputy Director of TRAFFIC Southeast Asia. 
"The time is ripe for building on the achievements of the past year, and to stop those who profit from robbing the world of its wildlife." 
Thailand has the largest unregulated ivory market in Asia. It is home to a skilled industry of carvers who turn the raw tusks into works of art including statues, amulets, jewelry, and figurines for sale to domestic and international buyers. 
The industry survives, in part because of a legal loophole that allows a legal domestic ivory market to thrive, and into which illegally imported ivory is laundered.
"Once ivory has been smuggled into the country, it becomes almost impossible to distinguish the illicit goods from those acquired through the legal loophole," said Shepherd. 
"While further commitment to effective law enforcement at Thailand's borders is a welcome initiative, these efforts will be severely undermined unless the country puts in place an effective domestic ivory registration and certification scheme." 
Large numbers of African Elephants are killed each year for their tusks, and represents a major factor in the decline of the wild population which currently stands at about half a million. Much of the poaching is to supply illicit ivory markets in Asia"
---
Notes:
1. Major ivory seizures at Suvarnabhumi International Airport by Royal Thai Customs in 2010: 
February: 239 tusks weighing two tonnes
April: 1.4 tonnes 
July: 117 tusks weighing 765 kg
August: 16 pieces of cut ivory weighing approx 90 kg

2. International trade in ivory is banned under the Convention on International Trade in Endangered Species of Wild Fauna and Flora (CITES). 

3. Poaching of elephants in Africa has been increasing in recent years. Currently the Asian Elephant (Elephas maximus) is regarded as Endangered and the African Elephant (Loxodonta africana) as Vulnerable on the IUCN Red List. Both are threatened by a variety of issues including poaching and illegal trade, habitat loss and degradation.
---