Sustainable use of wild plants project launched in India
Uttarakhand, India, 28th February 2008—A project to implement the International Standard for Sustainable Wild Collection of Medicinal and Aromatic Plants (ISSC-MAP) was launched in Dehradun, India, today. 

ISSC-MAP promotes appropriate management of wild plant populations to ensure those used in medicines and cosmetics are not over-exploited. ISSC-MAP is based on six principles: maintaining wild MAP resources, preventing negative environmental impacts, legal compliance, respecting customary rights, applying responsible management practices, and applying responsible business practices.
---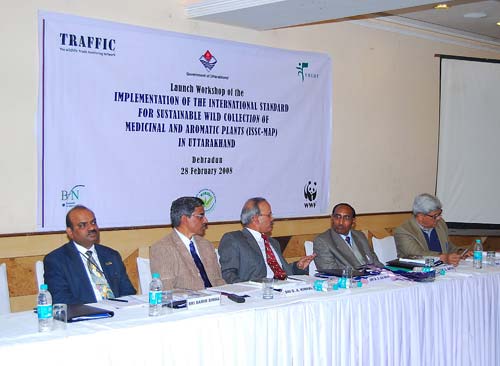 The new project in India will oversee the application of the ISSC-MAP principles and criteria in practice and will focus on the state of Uttarakhand in the Western Himalayas, where it will be implemented by TRAFFIC India in co-operation with the Foundation for Revitalisation of Local Health Traditions (FRLHT). It is funded by the German government's Federal Ministry for Economic Cooperation and Development (BMZ). The National Medicinal Plants Board, Government of India, will help oversee its implementation. 
Speaking at the project's launch, Samir Sinha, Head of TRAFFIC India, commented: "Now a standard for sustainable use of valuable wild plants has been established, TRAFFIC India is delighted to be at the forefront of putting its recommendations into practice. 
"We are confident that implementation of ISSC-MAP will provide tangible benefits to those who adhere to its best-practice guidelines." 
Sri B. S. Sajwan, CEO of the Indian government's National Medicinal Plants Board, described the new project as an important initiative not only in Uttarakhand, but for the whole of India. 
The launch was attended by more than 80 people, including key policy makers, Forest Department officials, MAP cultivators collectors and traders, and representatives from WWF India and other NGOs.
The ISSC-MAP wild collection standard has been drawn up following extensive consultation with plant experts and the herbal products industry worldwide and was developed by WWF Germany, in co-operation with the IUCN/SSC Species Survival Commission Medicinal Plant Specialist Group (MPSG), TRAFFIC and the German Federal Agency for Nature Conservation (BfN). 
Other ISSC-MAP implementation projects comprise sites in Karnataka (India), Cambodia, Brazil, Nepal, Lesotho, Ukraine and Bosnia-Herzegovina.
---