South Asia to develop Action Plan to curb wildlife trafficking
Kathmandu, Nepal, 29th August 2014—The three-day Second Annual Meeting of the South Asia Wildlife Enforcement Network (SAWEN) culminated today in Kathmandu, Nepal, where the eight South Asian countries finalized and endorsed the SAWEN Statute and updated their collaborative roadmap for fighting wildlife crime in South Asia. 
---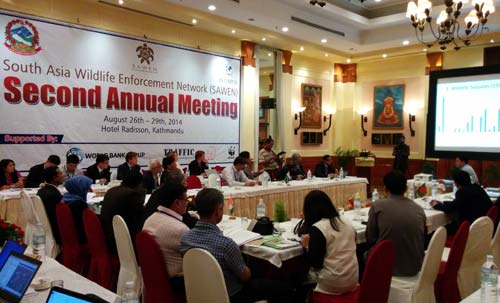 "Strengthening transboundary cooperation and collaboration for intra-country law enforcement initiatives through intelligence sharing on poaching and trade trends, along with exchanging knowledge and skill for fighting wildlife crime across South Asia" was the unequivocal concern of the representatives of the South Asian countries at this meeting that was held from 26-29 August 2014. 
This push from the SAWEN member countries places the region firmly in the spotlight of a growing international commitment to dealing with increasingly organised illegal wildlife trade networks as part of a broader strategic approach to combat trans-national organised crime.
The meeting was particularly successful in adopting the SAWEN Statute and beginning an intense process for developing an action plan for the next six years. The Statute clearly details the vision, goal, objectives and the crucial role that SAWEN will play in combating wildlife crime in the region. The Statute, endorsed by member country delegates to the meeting, will now await the final endorsement from the Governments of the eight South Asian countries.
Delegates from Afghanistan, Bangladesh, Bhutan, India, Maldives, Nepal, Pakistan and Sri Lanka, joined various inter-governmental organizations, international and regional organizations working on matters of wildlife trade and international policies. A number of international donors including the World Bank, USAID and the US Department of State participated in this meeting. 
Expert input was provided by the international community in support of the eight member countries and the SAWEN Secretariat. This included INTERPOL, the Secretariat of the Convention on International Trade in Endangered Species of Wild Fauna and Flora (CITES), the United Nations Office on Drugs and Crime (UNODC), The World Bank, TRAFFIC, WWF Tigers Alive Initiative and WWF-Nepal. 
 
The meeting provided a practical platform for sharing experiences, discussing common issues, reviewing performances, and enhancing collaboration with various partners and donors for combating wildlife crime in the region.  This included lessons learned by the ASEAN Wildlife Enforcement Network and suggestions from the CITES Management Authority of China in terms of collaboration and support to SAWEN.
Mr Megh Bahadur Pandey, Chief Enforcement Coordinator of SAWEN said at the meeting: "Minimizing illegal wildlife trade from South Asia is crucial to the conservation of wildlife in the region. Countries cannot fight highly organized and globalized wildlife crimes in isolation and need to collaborate and cooperate with other countries and partners".
He further added: "We are overwhelmed to see the support that has come from all South Asian countries and international partners to strengthen the initiatives of SAWEN and helping it achieve its mandate. The approved Statute will allow it to work as an independent institution working in tandem with the goals and objectives of the eight South Asian countries for fighting wildlife crime". 
Dr S.S. Garbyal, Director General of Forest and Special Secretary, Ministry of Environment and Forests, Government of India, who chaired several important sessions during the meeting said: "India recognizes the threats illegal wildlife trade poses to the unique and rich biodiversity of South Asia and is committed to supporting the initiatives taken by SAWEN to deal with wildlife crime at a regional level." 
Dr Shekhar Kumar Niraj, Head of TRAFFIC in India illustrated the roles that NGOs like TRAFFIC can play in collecting targeted information to assist law enforcement agencies to dismantle rhino poaching rings in India and prevent poaching and trade in this endangered species. 
Dr Niraj further commented: "The SAWEN Statute should allow the network to evolve with certainty into an effective platform to share information in a timely and effective manner for dedicated actions between the eight member countries to combat illegal wildlife trade." 
The Second Annual Meeting was jointly organized by the SAWEN Secretariat in collaboration with the Government of Nepal, with the support of INTERPOL (through financial support from USAID), TRAFFIC (through financial support from US Department of State), Nepal's National Trust for Nature Conservation (NTNC), and WWF Nepal. 
For more information, please contact Dilpreet Chhabra at +91-9999000472/+91-11-41504786; email her at Enable JavaScript to view protected content. or contact Dr Shekhar Kumar Niraj at +91-9868178927, email: Enable JavaScript to view protected content., Enable JavaScript to view protected content. . You can also visit our website, www.traffic.org; www.trafficindia.org   
---
Notes:
1. South Asia is home to over 15% of the world's flora and 12% of its fauna including several iconic species. Given its richness in biodiversity, South Asia remains one of the prime targets in international organized wildlife crime networks. Apart from iconic species such as Tigers, Elephants and Rhinos, there are a variety of medicinal plants, timber, marine species, birds and reptiles that are under constant threat from illegal exploitation and trafficking. To counter such threats, especially the illegal wildlife trade of the iconic species, the eight countries of South Asia came together to establish the South Asia Wildlife Enforcement Network (SAWEN).

2. About TRAFFIC: TRAFFIC was established in 1976 and since then it has developed a considerable international reputation for helping to identify and address conservation challenges linked to trade in wild animals and plants. In India, TRAFFIC carries out research and provides analysis, support and encouragement to efforts aimed at ensuring that wildlife trade is not a threat to conservation of nature in India. In India, TRAFFIC works as a programme division of WWF–India, the largest conservation organization working in the country. TRAFFIC is a strategic alliance of WWF and IUCN and has staff working in more than 25 countries around the world.

TRAFFIC, in collaboration with WWF Nepal, has provided technical and financial support to the development of SAWEN, including working in collaboration with the Secretariat and member countries.
---