South Africa annual rhino poaching toll falls for second year running but the crisis continues
Johannesburg, South Africa, 27th February 2017—South Africa today announced the official number of rhinos illegally killed in the country during 2016: 1,054. While this figure represents a slight drop on last year's 1,175, itself a fall from the 1,215 record total in 2014, rhino poaching figures remain unacceptably high.
---
"Although the numbers appear to be moving in the right direction, it's simply not possible to regard the sustained poaching of three rhinos each and every day as anything less than a continuation of the crisis," said Tom Milliken, TRAFFIC's Rhino Programme Leader. 
Although official poaching figures are still awaited from some other rhino range States, unofficial figures suggest there has been a drop in rhino poaching elsewhere, in particular Namibia where numbers fell from 94 in 2015 to around 60 animals in 2016.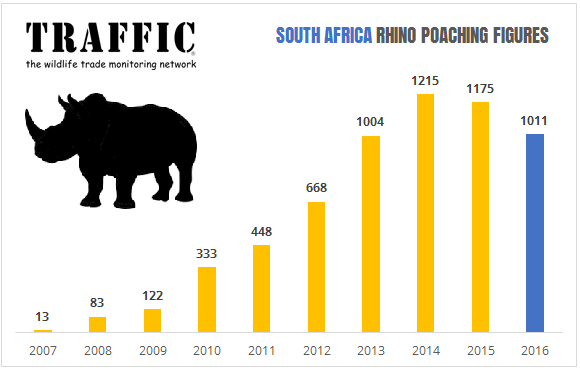 Significantly, the Africa-wide total for 2016 looks set to be fewer than the record total of 1,342 animals poached in 2015 when the decrease in South Africa was more than offset by significant increases in Black Rhino poaching in neighbouring Zimbabwe and Namibia, the far more endangered of Africa's two rhino species. 
Kruger National Park, where the heaviest poaching losses have occurred previously, reported 662 rhinos illegally killed in 2016, a significant drop from the 826 in 2015. 
"It's good to see the epicentre of Kruger curbing rhino losses last year, but the upsurge in Kwa-Zulu Natal and elsewhere is sobering and again raises questions about the role internal corruption plays with respect to ongoing losses," said Milliken. 
An article written by David Mabunda, the Chief Executive of Ezemvelo KZN Wildlife, published in February last year highlights the "…increasing levels of corruption among our ranks, the police, immigration officials and other law­ enforcement and professional services such as veterinarians. The number of corruption cases in wildlife management is making our efforts to achieve success more difficult."
Throughout 2016, various actions to enhance patrolling and law enforcement efforts against trafficking syndicates in source countries in Africa have occurred, but improved detection, arrest and prosecution of traffickers, and efforts to reduce the demand for horn in destination countries in Asia, particularly Viet Nam, still have a long way to go. 
During the 17th Conference of the Parties to the Convention on International Trade in Endangered Species of Wild Fauna and Flora (CITES), held in September 2016, pressure was maintained on two of the countries most heavily implicated in the illegal rhino horn trade: Mozambique as a transit and exit point for horn leaving Africa and Viet Nam as the principal end-use destination, which was instructed to implement their reform of the penal code effectively and to take action to reduce the demand for rhino horn in domestic markets. 
"History will reveal whether 2016 marks a turning point in the fortunes of Africa's rhinos, but right now there is little evidence either Mozambique or Viet Nam have taken the necessary actions for a decisive blow against rhino horn trafficking and consumption in their countries," said Milliken. 
Later this year the CITES Standing Committee will meet and assess the progress made by Mozambique or Viet Nam in addressing these issues. If it is deemed to be inadequate, the Committee has the authority to impose punitive trade sanctions. 
"Every nation needs to step up to the plate to address this international crisis: there's still a long way to go and we can't accept the status quo," said Milliken.
---