Responsible travel promoted through "Wild Africa" salon
Beijing, China, March 2017—Last week, TRAFFIC, WWF and Qyer co-hosted a "Wild Africa" salon on the theme of "Being a Responsible Traveller", aimed at Chinese citizens interested in visiting destinations in Africa.
---
The 200 studio participants were joined by more than 120,000 others following online via live streaming. Qyer is a popular online travel service supplier of outbound tourism. This joint event was initiated by Qyer and was the first in a series of four workshops to be delivered by the three organizations throughout 2017.

During the event, TRAFFIC's Li Chenyang spoke about how to be a responsible traveller by not buying illegal wildlife products. She talked about the current poaching and illegal trade in parts of rhinos, elephants and pangolins in Africa as a result of consumer demand and highlighted the efforts underway to save these species in the field. She warned any would-be travellers about the legal risk of trafficking wildlife products and encouraged those visiting Africa to seek out environmentally friendly gifts and souvenirs.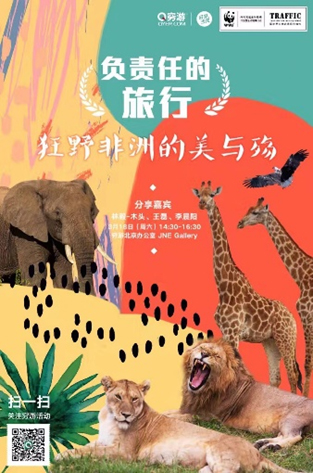 "Penalties against wildlife crime in China and many African countries are extremely severe and it is vital for tourists to Africa to be aware of which wildlife products are banned, so as to avoid unnecessary legal risk," said Li Chenyang. 

"By choosing sustainable and responsible souvenirs, travellers can both help protect endangered species, while making a positive contribution towards local livelihoods."

As part of its international commitments to end illegal ivory trade, China has imposed a ban on the import of ivory until the end of 2019, including carvings acquired before the international ivory ban under the Convention on International Trade in Endangered Species of Wild Fauna and Flora (CITES) came into force in 1990, and ivory from trophy hunting, while in 2016, the country committed to close down its domestic ivory trade by the end of 2017. 

During the Wild Africa salon, WWF China's Lei Wang also spoke about challenges related to tropical forest degradation and sustainable forestry management in Africa while Lin Yi, Director of Qyer's Outbound Tourism, spoke about travel routes, ecotourism and responsible tourist behaviour.

The event led to much debate and questions from participants, one of whom commented: "I shall definitely reject any illegal wildlife products and will persuade my friends and colleagues to do so too."
---
About Qyer
Qyer was founded by Mr Yi Xiao in 2004 when he was studying in Germany. It has become one of the largest online platforms in China with over 80 million users, providing outbound tourism service products. Qyer created the "Being a Responsible Traveller" initiative at the beginning of 2017 as part of its corporate social responsibility policy, aiming to encourage nature-friendly and sustainable travelling behaviours among its customers.