Pangolins saved from slaughter
Kuala Lumpur, Malaysia, 28th August 2009—In its biggest seizures of pangolins this year, Malaysia's Wildlife and National Parks Department confiscated 98 animals from a house in Alor Setar in the northern state of Kedah.
---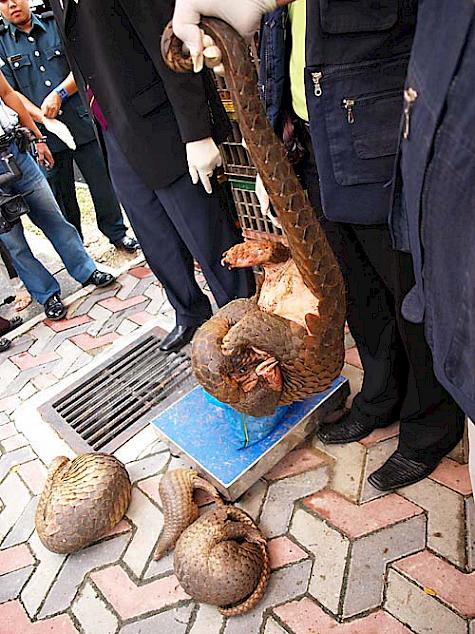 The department's Wildlife Crime Unit raided the house at 6.30 am on Wednesday after about three weeks of surveillance and investigations.
The unit found the totally protected animals hidden in a store room behind the house and have arrested a man in his 40s in connection with the crime.
He has been released on a MYR5,000 (USD1,400) bail.
The seizure included 58 adult male pangolins, 38 adult females, two juveniles and 3.2 kilogrammes of pangolin scales. The pangolins were later released into a protected area.
The man arrested in connection with the case faces five separate charges under the Protection of Wildlife Act 1972 including a charge of cruelty to wildlife, said Saharudin Anan who heads the Department's law and enforcement division.
If found guilty on all counts, he could face a maximum of 23 years in prison, up to RM27,000 in fines, or both, he added.
The pangolin is the most heavily traded mammal in Southeast Asia despite being protected by local and international laws.
There is a demand for its meat as well as its scales, which are used in the making of traditional medicines, both locally and for markets abroad. The animals seized in this case are believed to be for export.
Recent seizures provide an alarming indication of the numbers being taken out of the wild.
In July Guangzhou Customs officials seized over a tonne of frozen pangolins and sentenced the leader of a wildlife smuggling gang to life imprisonment for trafficking more than 2000 pangolins and other animals.
In 2008, Thai Customs officers stopped a smuggling attempt when it seized 130 pangolins near its border with Malaysia.
Findings of a panel of experts recently showed that incessent poaching has decimated pangolin populations in the wild in many parts of Southeast Asia where they were once abundant.
Reported last month by the wildlife monitoring network TRAFFIC, the expert findings cited better enforcement and monitoring as the key to tackling the crisis.
The experts on pangolins included scientific researchers, government law enforcement officers from most Asian pangolin range States, CITES Management and Scientific Authorities and animal rescue centres, who convened at a workshop hosted by Wildlife Reserves Singapore at the Singapore Zoo.
A video of one of the rescued camera-shy pangolins
---