National workshop for Mexico's enforcement officials
Mexico City, Mexico, 28th February 2012—Wildlife management and enforcement officials from across Mexico met last week to learn new skills and receive new tools and materials  to help them improve the conservation and sustainable use of wild natural resources in the country. 
---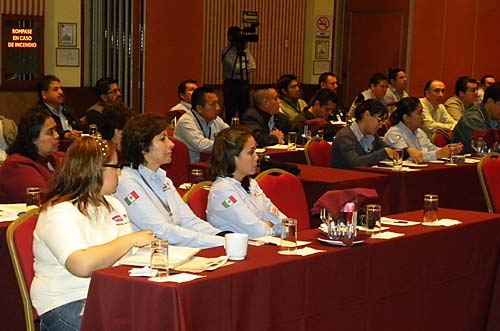 The three day meeting included practical sessions on specimen identification and handling plus familiarization with relevant national and international legal frameworks, national wildlife policies and management schemes. 
Participants included Environmental Ministry (SEMARNAT) representatives of all 31 states, plus representatives of 8 state governments and enforcement staff from more than 20 General Attorney for the Protection of the Environment (PROFEPA) offices. 
Technical support was provided by more than 30 leading experts from government agencies in Mexico (such as the National Commission for Knowledge and Use of Biodiversity (CONABIO)), academia (National University of Mexico (UNAM)), NGOs including TRAFFIC and the Office of Law Enforcement of the USFWS.
"Mexico is a mega-diverse country, home to around 10% of the terrestrial biodiversity of the planet," said Adrian Reuter, Representative for TRAFFIC in Mexico. 
"Conservation and sustainable use of these natural resources is a major concern, as it is all too easily undermined by unsustainable and illegal harvest and wildlife trade." 
"Without good governance, Mexico's sustainable development ambitions will not be realized." 
The meeting, which was supported by the USFWS under the framework of the Wildlife Without Borders programme, was organized by PROFEPA in collaboration with the Wildlife Directorate (DGVS) of the Environmental Ministry (SEMARNAT) in Mexico and TRAFFIC.
---