Matchmaking companies with ethical and sustainable wild-harvest producers in Nepal.
TRAFFIC and the Himalayan Plants for People Project partners are helping relationships blossom between harvesters and buyers of sustainable and fairly traded wild-harvested products from Nepal's Himalayas. 
---
The Himalayas are biodiverse and home to the Critically Endangered* Jatamansi, Nardostachys jatamansi, the Vulnerable* Himalayan Fritillary, Fritillaria cirrhosa, and Caterpillar Fungus, Ophiocordyceps sinensis that need careful management to mitigate the threat of overharvesting. Yet, due to extreme poverty, many communities in the region turn to harvesting these and many other species for income.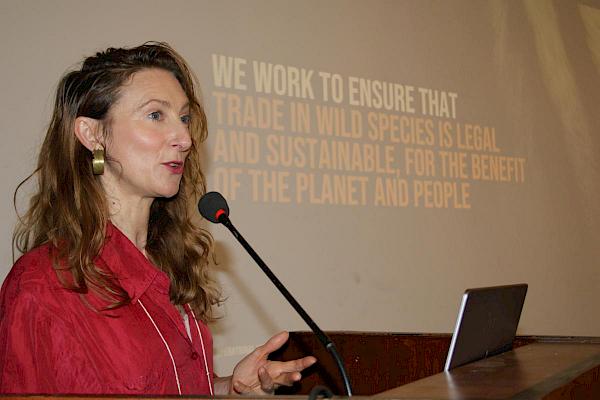 "Making long-lasting connections between legal, sustainable producers and buyers of wild-harvested medicinal and aromatic plants is a crucial step in building sustainability throughout the supply chain, from those that harvest the species, all the way to consumers who may not even realise they're using wild-harvested products"
Cara Flowers, TRAFFIC's Sustainable Supply Chain Manager
Companies from Nepal, Bhutan, China, India, Germany, Slovenia, France, the UK, Netherlands and Belgium were invited to the first hybrid meeting of its kind, 'Market Access Workshop' to kindle relationships with harvesters and producers of wild-harvested Non-Timber Forest Products (NTFPs) species of North-west Nepal in Karnali and Sudurpaschim provinces.
"Prioritising the NTFP sector determines the sustainable resource management in the forest. For this, the government intends to form a network including concerned government bodies, the private sector, and other relevant organisations. Such collaborative efforts can play an instrumental role to address the challenges and identifying the opportunities to develop effective policies and strategies for the conservation and sustainable use of NTFP resources." said Nawaraj Pudasaini, Deputy Director General, Department of Forests and Soil Conservation. 
Deputy Director of Membership Department CATCM (China Association of Traditional Chinese Medicine), Zhuang Hong: "Both China and Nepal have a long history of using traditional medicine, and China has a history of importing medicinal materials along the Himalayan region for centuries. In 2022, the import volume of Traditional Chinese Medicine (TCM) material in China reached 130000 tonnes, with an import value of USD2.88 billion. Sustainable development of the TCM industry not only ensures the health of the people but also serves as an important industry for the government's poverty alleviation programme." 
 To date, project work in Nepal, led by ANSAB, reached over 3000 harvesters with improved knowledge through orientation, coaching and technical backstopping in sustainable forest management, NTFP harvesting and organic and FairWild standards. Of them, over 1,300 local community harvesters received formal training in sustainability, organic, and ethical standards, like FairWild, to ensure the conservation of important species and preserve livelihoods through fair working conditions. Furthermore, over 3,100 harvesters (registered in the previous project) have received follow-up support in sustainable forest management, NTFP harvesting, and organic & FairWild standards.  
"We know that supporting community-managed forests is the best way to ensure benefits for people and the environment for future generations. Growing these relationships between companies and producers will lay roots for greater and fairer prosperity for the harvesters, who, in turn, act as guardians of these endangered Himalayan species"
Puspa Ghimire, ANSAB Project activities implementation lead in Nepal. 
Alongside forging relationships, buyers were also introduced to tools like WildCheck, launched to highlight sustainability and social issues surrounding threatened plant species' harvest in the sector.
"We will look into how this program can be further scaled up in the future Darwin Initiatives call, as this kind of program is very good in linking the local mountain communities to the international buyer's table," said Ugan Manandhar from Foreign, Commonwealth and Development Office (FCDO). 
Aptly, this matchmaking market access workshop was held just before FairWild week (26-30 June 2023), an annual global campaign that aims to raise awareness about the importance of sustainable wild harvesting and celebrate those who adhere to best practices.
Participants quotes: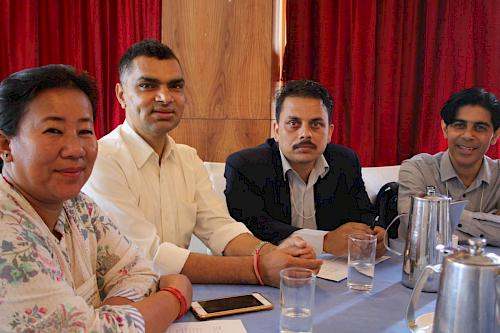 Dr Bhishma Subedi, Executive Director of ANSAB Nepal: "Promotion of medicinal and aromatic plants (MAPs) is important for increasing international market access. The conservation and sustainable management of these MAPs are very crucial for the future generation. The local communities are the key stewards of these unique and valuable MAPs. Some of these MAPs are endemic, only found in the Himalayan region and are very significant considering their biodiversity value, medicinal properties, aroma and nutrients. Sustainable harvesting, production and trade of these MAPs are important to ensure the local livelihoods and health care. These plants are precious gifts from nature, and it is essential to prioritize their sustainable utilization and protection. Therefore, this event focuses on international buyers, who have a very similar understanding of how to ensure a sustainable market system with a well-governed value chain."  
Saraswoti Gurung, Director of Himalayan BioTrade P. Limited: "This event has been a tremendous benefit for my company. This event indeed provided us with a cost-effective and efficient way to connect with international buyers without the need for extensive travel, such as BIOFACH. The event has offered us a convenient platform for networking, allowing us to engage with different potential buyers and building potential business relationships." 
Prashant Neupane, Quality Assurance Department, Natural Resources Industries Pvt. Ltd, Nepal: "It's been beneficial to meet potential buyers and network with other stakeholders within Nepal. We are committed to sustainable and ethical harvesting of natural resources, and the workshop provided crucial insights on sustainability tools such as the FairWild certification that can further augment our efforts."  
Achyut Dhungana, Under Secretary, MoICS: "The sustainable management of MAPs along with trade promotion offers networking opportunities, potential collaboration and business relation, market access, and policy advocacy. The 'Ministry of Industry, Commerce and Supplies (MoICS)', 'Ministry of Forests and Environment' and 'Ministry of Agriculture and Livestock Development' shall collaborate and integrate its program to take Nepali herbs and medicines to the international market. The government will surely support and cooperate with private sectors, herbal associations and enterprises, and traders and exporters to foster the herbal medicine markets."  
Tina Roner, Organic Farming and Green Value Chains Expert, TERRA HIMALAYA, Bhutan: "It's been a wonderful opportunity to come from Bhutan to meet with Nepali producers working with medicinal and aromatic herbs. Terra Himalaya is working to develop organic-certified production of medicinal and aromatic herbs in Bhutan and to certify its wild collection with the FairWild standard. We hope to see many other companies follow this example and commit to sustainability and traceability too." 
---
Notes:
* according to the IUCN Red List of Endangered SpeciesTM 
Himalayan Plants for People Project Partners involved in the market access workshop:  
Nepal Herbs and Herbal Products Association (NEHHPA) 
Districts harvesters and producers attended from:  
Humla  
Jumla 
Mugu  
Darchula 
Bajhang 
The workshop also involved representatives from the Government of Nepal Ministry of Industry, Commerce and Supplies, Ministry of Forest and Soil Conservation and Ministry of Agriculture and Livestock Development.  
The Himalayan Plants for People Project was developed from the Succeeding with CITES project.   
Both projects were funded by the UK Government through the Darwin Initiative. 
---
About the Darwin Initiative
Funded by the UK Government through the Darwin Initiative.
The Darwin Initiative is a UK government programme with a focus on biodiversity projects. 
About Asia Network for Sustainable Agriculture and Bioresources (ANSAB)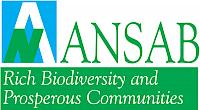 Established in 1992, ANSAB has a vision of rural South Asia built on rich biodiversity and prosperous communities. This vision includes rich, healthy and productive ecosystems actively managed and sustainably used by formerly poor local communities. It also features adaptive people and resilient ecosystems able to cope with global climate change. Generate and implement community-based, enterprise-oriented solutions that conserve biodiversity and improve the livelihoods of the poorest of the poor while bolstering national economic development and addressing climate change is the mission of ANSAB.
ANSAB has implemented conservation and development programmes in more than 30 districts of Nepal and provided policy inputs and services to the government and development partners in seven Asian countries. ANSAB has introduced FSC certification in Nepal, supported enterprises in achieving organic and wildlife-friendly certification, supported NTFPs collector groups and producer enterprises for their management practices complying with FairWild standards, and led successful on-the ground implementation of the UKAID funded Darwin Initiative project 25-018. After the successful implementation of the project 25-018, UKAID funded Darwin Initiative program further provided the project 28-026 for the upscaling of the successes.
About Profound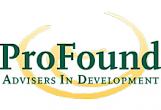 Established in 1990, ProFound is a consultancy company that pioneered in natural ingredients trade promotion. ProFound has grown into a team of experts in developing sustainable value chains for natural ingredients for food, cosmetics and health.
About FairWild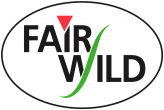 The increasing demand for wild plants—as ingredients for food, cosmetics, well-being and medicinal products—poses major ecological and social challenges. The pressure on potentially vulnerable plant species can endanger local ecosystems and the livelihoods of collectors, who often belong to the poorest social groups in the countries of origin.
As a response to these concerns, the FairWild Foundation is working with partners worldwide to improve the conservation, management and sustainable use of wild plants in trade, as well as the livelihoods of rural harvesters involved in wild collection. TRAFFIC has supported the development of the FairWild Standard, and now hosts the organization's Secretariat under a partnership agreement.