Malaysia nabs 12 with over 200 parts of threatened species
Kuala Lumpur, Malaysia, 2nd September 2016—Authorities in Malaysia have seized hundreds of parts of highly threatened species and caught 12 traffickers including a Chinese national previously convicted of smuggling ivory into Malaysia.
---
In five separate operations over a five-day period in August, Peninsular Malaysia's Department of Wildlife and National Parks (Perhilitan) seized hundreds of pieces of elephant ivory, pangolin scales, two Tiger skins, bones of a big cat, bear and Tiger teeth and claws, gallbladders, the casque of a Helmeted Hornbill, and at least 45 tips of hornbill beaks.
The raids took place in five locations near the country's capital Kuala Lumpur.  Two Malaysians, two Chinese and eight Vietnamese nationals were arrested. Authorities reported that some of the suspects did not have valid documentation even to be in the country.  
"This success is a result of months of surveillance, international co-operation and information sharing, including with the Wildlife Justice Commission, since early this year,'' said Perhilitan Director-General, Abdul Kadir Abu Hashim, at a press conference. "The Department is firmly committed to eradicating this crime and urge those with information on wildlife crime to come forward."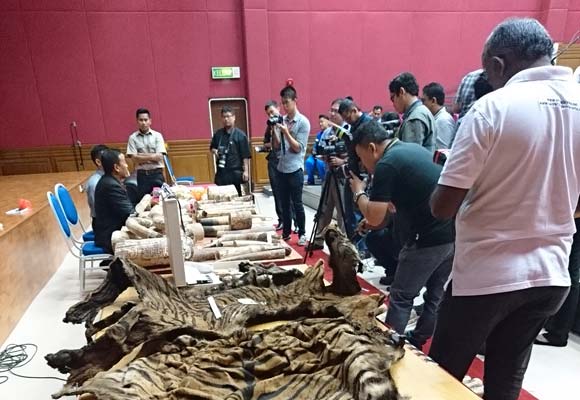 The ivory seizures were of particular significance as Malaysia has no known domestic ivory market and has largely been identified as a transit point in the global illegal ivory trade. Further, one of those arrested, a Chinese national, was previously caught smuggling ivory through Kuala Lumpur International Airport in 2013. 
"We congratulate Perhilitan on this significant bust. The fact that ivory was found in three separate premises is very worrying, suggesting an organized ivory smuggling racket is present in Malaysia. For repeat offenders who have no respect for our laws, nothing sends a stronger message than stiff jail time," said Kanitha Krishnasamy, Senior Programme Manager for TRAFFIC in Southeast Asia.
The haul of hornbill parts also raised alarm. No known seizures of this magnitude involving hornbills have taken place previously in Malaysia.  The items were found at a residence, along with the bag of pangolin scales.  Demand for the ivory from Helmeted Hornbills in China has led to this species being recently assessed by IUCN as Critically Endangered—a step away from extinction.  Of concern were the many tips of hornbill beaks, which do not contain ivory—the reasons for these being in trade is not known. 
Krishnasamy applauded the authorities' continued vigilance and urged them to continue investigating the links between the suspects in the five cases and their networks in the country.  
''The involvement of foreign nationals is another concern, so we urge the authorities to maintain a blacklist of wildlife offenders at the country's land borders and other entry and exit points," said Krishnasamy.
The provenance of the seized items is not known. Perhilitan's forensics lab will be conducting DNA testing on the seized items. 
The Wildlife Justice Commission (WJC) is an independent, not-for-profit organization that investigates global organized criminal networks illegally trading in endangered wildlife species (fauna & flora), timber and fisheries. TRAFFIC collaborates with the WJC.
---