Malaysia busts second elephant poaching gang in just over a year
Gerik, Perak, Malaysia, 13th March 2018–Authorities have nabbed four men and busted an elephant poaching gang that they believe has slaughtered 20 pachyderms for their tusks over the last decade.
---
A joint team from the Royal Malaysian Police and the Department of Wildlife and National Parks seized several high-powered modified firearms, 255 bullets of various calibre, wads of cash, 13 snares and animal remains including deer antlers and suspected tiger bones.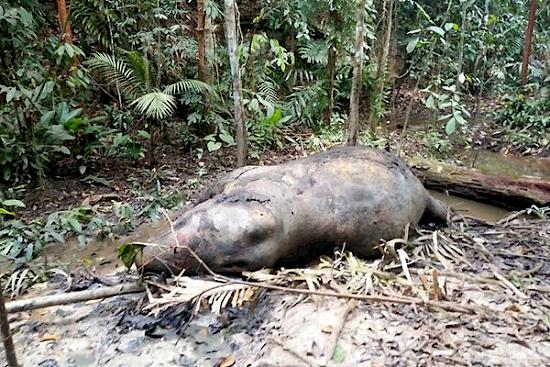 Beginning with the arrest of one suspect in a village 20 minutes from the town of Gerik in northern Peninsular Malaysia on 10th March, the enforcers went on to arrest three other men and seize a slew of arms and poaching tools on 11th March. The men were all locals aged between 40 and 50 years.
The team also located the carcass of a male Asian Elephant, believed to be 30-years-old in Piah Forest, not far from Gerik. The carcass was missing its tusks and a necropsy by the Wildlife Department's forensics team showed the elephant had died from two gunshots to its head.
This is a notorious gang of poachers that the Wildlife Department has been tracking since 2009. We believe the tusks from the elephant have been sold by the group to foreign buyers
Police Commissioner Dato' Seri Zulkifli Abdullah, Director of the Federal Police Internal Security and Public Order Department"We hope this serves as a lesson to other groups to stop this kind of illegal activity and we will continue to work with Perhilitan to enforce the law," Zulkifli added.
Zulkifli also told the press conference that the police, through the Internal Security and Public Order Department would focus at least 20 % of the Force's manpower on addressing environmental crime including wildlife and fisheries crimes.
Also present at the press conference was Director General of the Department of Wildlife and National Parks Dato' Abdul Kadir Abu Hashim.
"This is exactly the kind of collaboration Malaysia needs to bring down the syndicates decimating Malaysia's wildlife. We congratulate both the authorities and hope to see many more successful joint actions against wildlife criminals," said Kanitha Krishnasamy, Acting Regional Director for TRAFFIC in Southeast Asia.
The four suspects are being investigated under Section 8 of the Firearms (Increased Penalties) Act (1971), Section 8(a) of the Arms Act 1960 and Section 6 of the Corrosive and Explosive Substances and Offensive Weapons Act 1958.
They are also being investigated under several sections of the Wildlife Conservation Act 2010 for the possession of snares and wildlife parts.
The four men are being held under Police remand for seven days, until 18th March.
A press release issued by the Royal Malaysian Police said that one suspect admitted during initial investigations that he had just sold a pair of elephant tusks to a middleman at a town at the Malaysian international border.
Zulkifli told press that police would continue working with the Wildlife Department and with authorities in a neighbouring country to investigate and identify the parties that may have bought the tusks.
Forests in northern Peninsular Malaysia are often a target of poachers because they are rich in iconic endangered species including tiger, elephant and bear.
On 10th February 2017, a gang of seven men who were part of an elephant poaching gang were arrested with explosives, guns and parts of tusks in the state of Kelantan, which is also located in northern Peninsular Malaysia. Follow-up raids uncovered two elephant tusks, dried elephant meat and other wildlife parts.
---