London Conference must take serious action to reduce demand for illegal wildlife products
London, UK, 11th February 2014—As world leaders arrive for this week's London Conference on Illegal Wildlife Trade, TRAFFIC has called for serious action to reduce consumer demand for illegal products from elephants, rhinos, tigers and other endangered species.
---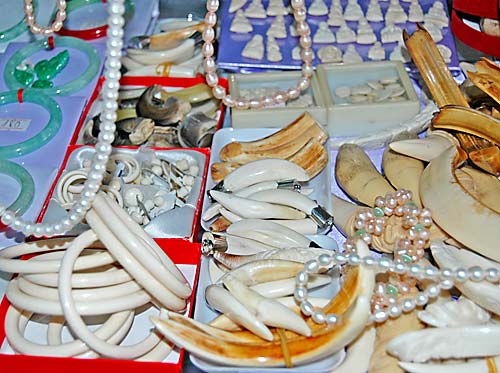 The current poaching epidemic impacts the world's most iconic species. The number of rhinos poached in South Africa alone increased to over 1,000 last year from only 13 six years ago. There are as few as 3,200 tigers remaining in the wild, and over 20,000 African elephants were illegally killed in 2012. 
"Law enforcement efforts must continue to be at the front line in the battle to protect species in their range countries and in efforts to shut down markets for illegal wildlife products," said TRAFFIC's Director of Policy, Sabri Zain. 
"However, without a complementary effort to effectively address the persistent market demand that drives this trade, enforcement action alone may sometimes be futile."
"While the desire for these products remains persistently high, and consumers continue to be willing to pay high prices for them, criminals will always find a way to evade the long arm of the law," he warned. 
Priority issues to be discussed at the London Conference include strengthening law enforcement and criminal justice, supporting sustainable livelihoods for communities that live alongside wildlife and reducing demand for illegal wildlife products. 
"The continuing escalation in poaching and record levels of illegal trafficking in ivory and rhino horn in Africa is being driven by resurgent demand for these products in Asia," said Tom Milliken. 
"Governments must use the London Conference to ensure much more is done to understand the underlying drivers of poaching and consumption. These would be key to affecting meaningful solutions in terms of anti-poaching and demand reduction strategies in both source and consumer countries around the world."
Naomi Doak called for new approaches to understanding and influencing the drivers behind consumer demand for these products. "We must go beyond just awareness raising campaigns and implement approaches that are grounded in consumer research and social science approach. This includes identifying and involving individuals, international and local, who best influence the opinions, actions and behaviour of the target consumer groups.
Milliken and Doak will both be speaking on demand reduction at the United for Wildlife Symposium taking place on the eve of the London Conference.
The London Conference takes place from 12-13 February. The event is being hosted by UK Prime Minister David Cameron, Foreign Secretary William Hague and Secretary of State for the Department for Environment, Food and Rural Affairs Owen Paterson. WWF-UK president, HRH The Prince of Wales and his son HRH The Duke of Cambridge will also attend London Conference events.
---