Logistics companies commit to refusing transportation of illegal wildlife products
Beijing, China, 8th May 2019—14 leading courier and logistics companies in China earlier this week signed a Voluntary Code of Practice to Refuse Delivery of Illegal Wildlife and Products Thereof to underline their commitment to curbing illegal trade in wild animals and plants and protect endangered wildlife species and biodiversity. 
---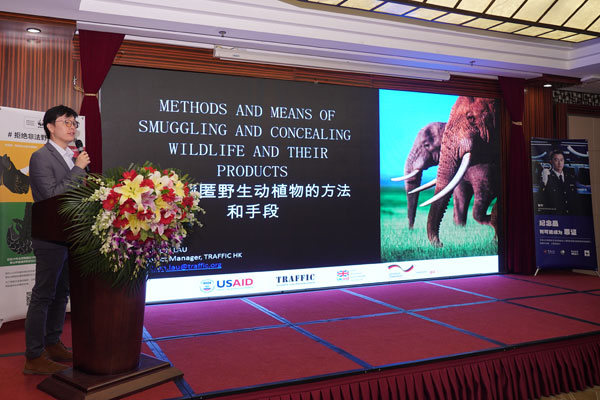 The companies, who between them cover 90% of the country's courier and logistics companies, included domestic giants EMS, SF-Express and YTO-Express alongside well-known international companies DHL and FedEx. 
The signing event was co-hosted by WWF China, China Wildlife Conservation Association and China Express Association.
With the booming of e-commerce in China, the domestic courier and logistics industries have developed rapidly—with a total of 50.71 billion packages delivered in 2018. While the industries have brought convenience to everyday life, their services have, unfortunately, been used by criminals on occasion as a channel to transport wildlife and products thereof illegally. 
The signing of the Voluntary Code follows a public declaration of zero tolerance towards illegal wildlife trade made by 17 leading courier companies operating in China in 2015 during an event held on 3rd March (World Wildlife Day), facilitated by TRAFFIC, China's Management Authority for the Convention on International Trade in  Endangered Species of Wild Fauna and Flora (CITES MA), the State Post Bureau and China Express Association (CEA). 
Several of the companies, including SF-Express and EMS subsequently held workshops hosted by TRAFFIC to help build the capacity of their employees to deal with this issue, but the rapid development of the industry has significantly altered how the courier and logistics industries operate, creating the need for a fresh impetus to curbing illegal wildlife trade. 
Speaking at the signing event, Mr Wilson Lau, Programme Manager for TRAFFIC said: "Wildlife smuggling has links to other forms of organised crime, including drug dealing, money laundering, people trafficking and the criminalisation of society. Transportation is a critical element in many of these activities, which places the courier and logistics industries in a unique position to help curb such criminal activities. TRAFFIC stands by, ready to lend our expertise to assist these essential curtailment efforts." 
Mr Neal Carlin, Head of Climate Change and Environment, British Embassy Beijing, spoke about the Task Force on Combating Wildlife Trafficking and the Buckingham Palace Declaration. He said: "Taking on the illegal wildlife trade is a unique way of protecting these endangered species and the key to its success is collaboration, working together across Government agencies, with the private sector and civil society, and across borders and continents. Combining forces with the private sector is crucial in stopping the trafficking of illegal wildlife products."
Mr Ralf Becker, First Secretary, Environment, Climate and Urbanisation Economic Department, German Embassy said: "Raising awareness and improving the capacity of the courier and logistics industries to crack down on the transportation of illegal wildlife products is crucial. Wildlife criminal groups heavily rely on international systems of trade, finance, and transport to make a profit, forcing them to engage with the lawful, regulated world. For this reason, the role of the transport and logistics sector in combating illegal activities is important." 
"The signing of the Voluntary Code demonstrates the determination of the courier and logistics industries to combat the illegal transportation of wild fauna and flora," said Mr Jiao Zheng, Deputy Secretary General, China Express Association. " It is of great significance to implement relevant national laws and regulations, strengthen industry self-discipline, regulate the order delivery market, protect endangered wildlife, and reduce the operational risks of courier and logistics enterprises."
Following the ceremony, a 1.5-day training workshop was held to build capacity within the industry, including boosting species identification skills, sharing successes and lessons learned, while the Customs and Forest Police shared details of a number of seizures involving the courier and logistics industries. Participants also included representatives of companies operating in Viet Nam who spoke about how they would apply the advanced measures currently practiced by Chinese companies there.
"In recent years, transnational organised criminal have smuggled illegal wildlife products to Asia and distributed them by abusing the services of domestic logistic companies: WWF China stands ready to lend our technical expertise to support the companies implementing this new Voluntary Code of Practice to stamp out such activities and we encourage other companies to join them in these admirable endeavours," said Zhou Fei Chief Program Officer, WWF China. 
Signatories of the Voluntary Code of Practice to Refuse Delivery of Illegal Wildlife and Products Thereof:
EMS, SF-Express, ZTO-Express, UTO-Express, TO-Expres, Yunda-Express, Deppon-Express, Best-Express, JD-Logistics, ZJS-Express, Suning-Logistics, China Air Express, DHL, and FedEx.
The ceremony and training workshop were co-funded by the UK Government (Department for Environment, Food & Rural Affairs, Defra) and the German Government (GIZ on behalf of the German Federal Ministry for Economic Cooperation and Development (BMZ) and the German Federal Ministry for the Environment, Nature Conservation and Nuclear Safety (BMU). 
---