Ivory and rhino horn seizure highlights Malaysia's role as transit point in illicit trade
Kuala Lumpur, Malaysia, 26th August 2010—The recent seizure in Kenya of five rhino horns and two tonnes of elephant ivory bound for Malaysia is raising concerns about the country's role in the illegal trade of these items.
---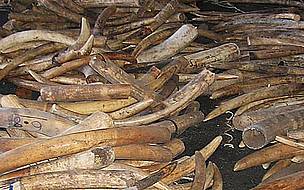 While Malaysia does not possess the open ivory markets of other countries in the region, it was identified in the latest Elephant Trade Information System (ETIS) report as a country of concern because of its role as a significant transit point in the global ivory trade.
ETIS is the world's largest database of elephant product seizure records, comprising more than 15,400 ivory seizure cases compiled over the last 21 years and is compiled by TRAFFIC on behalf of CITES.
The data show a growing number of illegal ivory shipments passing through Malaysian ports, particularly Pasir Gudang in Johor, where in August 2006, 2,910 kg of ivory was seized in Japan, after transiting the port. 
In 2009, another large shipment of 5,647 kg of ivory was seized in Viet Nam, also having passed through Pasir Gudang, while on 12th May 2010, 1,665 kg of ivory was seized in Hai Phong Port, Viet Nam, again having come via Malaysia. 
On Tuesday, Wildlife officers seized two tonnes of elephant ivory and five rhino horns at Kenya's international airport, which were to be illegally shipped to Malaysia.
African Elephants and rhinos are threatened by poaching, the latter for their horns, valued in traditional Asian medicines. 
Worldwide, all five rhino species are in crisis, with declining numbers throughout their ranges in Africa and Asia. 
However, it is Africa that has borne the brunt of the latest poaching surge; 180 rhinos have been slaughtered for their horns in South Africa this year alone, with animals killed on an almost daily basis.
Earlier this week, a new committee to co-ordinate the fight against rhino poaching was formed in Johannesburg, South Africa, where a summit was being convened to find new ways to reduce poaching and demand for rhino horn from the East. 
Viet Nam in particular plus other countries in the region have already been in the spotlight as hubs for the illegal rhino horn trade, but this seizure demonstrates, Malaysia also plays a role. 
In the wake of the most recent seizure, TRAFFIC calls for urgent investigations to identify the players involved in the illegal rhino horn and elephant ivory trade in Malaysia, and for stern action to put them out of business.
"Tackling the poaching is just one end of the supply chain, every effort must be made to close down the middlemen and buyers too," said Kanitha Krishnasamy, TRAFFIC Southeast Asia Senior Programme Officer. 
TRAFFIC applauds the agencies in Kenya for making the seizure, and urges the authorities there and in Malaysia to increase co-operative efforts to end such trade in endangered species between the two countries.
---