India's wildlife law enforcement gets a boost with the launch of TRAFFIC's latest handbook
New Delhi, India, 16th February 2010—As a step forward towards strengthening wildlife enforcement in India, Shri Jairam Ramesh, Hon. Minister of Environment and Forests launched TRAFFIC India's latest Handbook on Wildlife Law Enforcement in India on 16 February 2010 at the WWF-India Secretariat in New Delhi.  The book has been produced with support from WWF-India and is authored by Samir Sinha, Head-TRAFFIC India.
---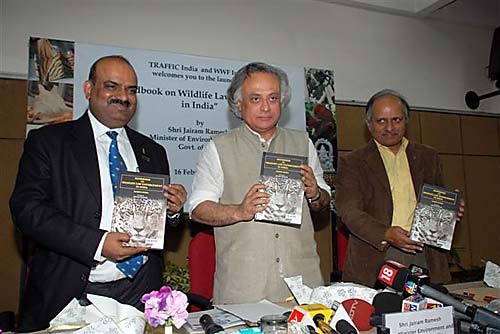 The handbook is a comprehensive and detailed publication on wildlife trade and crime, conceived from several discussions with senior enforcement officials and experts. The handbook is for use by officials from the Forest Department, Police, paramilitary forces guarding India's borders, the Central Bureau of Investigation, Department of Revenue Intelligence and others working on wildlife enforcement in India.  It can be used as an important resource material during trainings conducted on wildlife enforcement and other related issues. 
Its special features include sections on prevention of offences, identifying early signs, the scene of wildlife crime, internet as a tool for illegal wildlife trade, securing electronic evidence and conducting interrogations.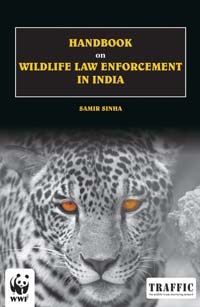 In the foreword to the book, Shri Jairam Ramesh stated, "The handbook is a comprehensive document that highlights emerging threats from illegal wildlife trade and offers valuable information on identifying and responding to such threats."
"I would recommend the field practitioners, enforcement and policing authorities and anyone with a keen interest in protecting our natural heritage to make use of this handbook in the best possible way", he further commented at the launch. 
Mr. Ravi Singh, SG & CEO, WWF-India further commented, "From a conservationist's point of view, the handbook is a vital input at the present stage of India's conservation history, being published at a time when many of our own species and conservation landscapes are depreciating, some beyond even long term recovery. I am confident that the handbook will help the practitioners and concerned individuals in standing firm against erosion of our natural heritage."
Mr. Samir Sinha, Head of TRAFFIC India and author of the book said, "I am deeply touched by the support and appreciation I have received for this book. It is hoped that this handbook will prove a useful tool in the battle against illegal wildlife crime in India."
---