Hungarian police seize thousands of dead songbirds
Hungary, 9th November 2011—Border Police in Hungary seized around 10,000 dead songbirds from a Romanian truck near Szeged, close to the border with Romania on 5th November, according to MTI, the Hungarian News Agency.
---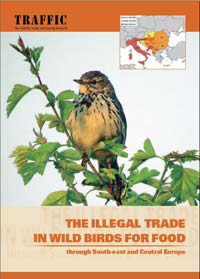 The officials became suspicious after noticing some boxes within the refrigerated consignment appeared different to those containing meat and sausage products.
Upon opening them, they discovered thousands of songbirds that appeared to have been recently shot.
The majority were Eurasian Skylarks Alauda arvensis, but the haul also included Calandra Larks Melanocorypha calandra, Red-throated Pipits Anthus cervinus, Bluethroats Luscinia svecica, European Goldfinches Carduelis Carduelis, Fieldfares Turdus pilaris, Mistle Thrushes Turdus viscivorus, Reed Buntings Emberiza schoeniclus and White Wagtails Motacilla alba.
The driver was arrested and has already been prosecuted under a fast-track procedure and now faces 10-months imprisonment.
In 2008, TRAFFIC highlighted the illegal trade in wild birds at a meeting of European Union (EU) government agencies involved in regulating wildlife trade in the region.
According to research published then by TRAFFIC, hundreds of thousands of wild birds were being illegally killed by highly organized criminals in South-east and Central Europe who smuggled the carcasses to northern Italy to be sold as a delicacy in restaurants.
"Despite TRAFFIC's earlier warnings, the illegal trade in songbirds within Europe clearly still continues—a situation the EU should find unacceptable and do its utmost to rectify," said Katalin Kecse-Nagy, a Senior Programme Officer with TRAFFIC, based in Hungary.
The majority of bird species illegally hunted in Europe are songbirds, such as finches, warblers, pipits and buntings, which are protected under international treaties, EU and national legislation, particularly the EU's Birds Directive.
A leaflet distributed by TRAFFIC in 2008 demonstrated how illegal hunting in the European Union had shifted from Hungary to Bulgaria, Romania, Serbia and Montenegro, but also occurs in countries such as Bosnia and Herzegovina, the Former Yugoslav Republic of Macedonia, Albania and Croatia. The main transit countries are Slovenia, Croatia and Hungary, from where the birds are exported to Italy.
---