Hanoi's Environmental Police record largest-ever seizure
More than two tonnes of illegal wildlife products seized in Dong Da district

Hanoi, Viet Nam, 19th January 2009—Hanoi's Environmental Police have made their largest-ever seizure of wildlife products following the confiscation of more than two tonnes of bones from a store in Dong Da district, Hanoi, on 10 January.
---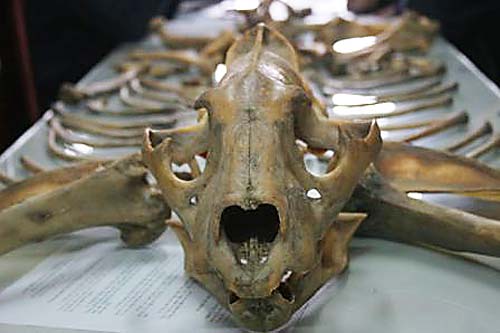 Environmental Police first stopped a man transporting a set of tiger bones and ten kilograms of serow bones and horns by motorbike in Ba Dinh district. Following investigations, they raided the end destination of the products, a store belonging to Ms Nguyen Thi Thanh Tam, and discovered another set of tiger bones, six frozen pieces of tiger skin, seven bear paws, 16 bear gall bladders, six porcupine stomachs and 69 bags of bones from various wild animals. Her testimony led to a third and final arrest of a man manufacturing the tiger bone gel found in Ms Tam's warehouse.
"While this case underscores the very serious threat that illegal trade poses to many of Viet Nam's endangered wildlife populations, we continue to be impressed and encouraged by the good work that the Environmental Police are doing," said Nguyen Dao Ngoc Van, Senior Projects Officer for TRAFFIC Southeast Asia's Greater Mekong Programme. 
The case is the latest in a string of major seizures, and reflects Hanoi's improved enforcement capacity since the Environmental Police were established a division of the Hanoi Police Department in 2007. Since their establishment, the Environmental Police have handled 100 cases, one of them involving as large a quantity as 24 tons of frozen pangolin meat and scales and nearly thirty involving wild animals from leopard cats and civets to pythons and monitor lizards. 
"The presence of the Environmental Police in Viet Nam will change illegal wildlife trade for the better," Van noted. 
Although Vietnam is a party to CITES, the Convention on the International Trade in Endangered Species of Wild Flora and Fauna, and national legislation is in place to protect many of its wildlife populations, trade in endangered wild plants and animals is widespread throughout the country. 
---