Focus on wildlife cybercrime at CITES
Johannesburg, South Africa, 26th September 2016—Big business, government agencies and the NGO community are uniting to protect endangered wildlife from online crime during a unique event held at the meeting of the Convention on International Trade in Endangered Species of Wild Fauna and Flora (CITES).
---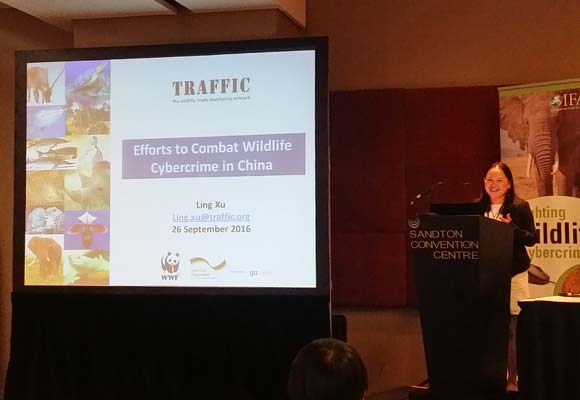 The side event on "Taking a byte out of wildlife cybercrime" brought together giant online tech companies Tencent and eBay, with TRAFFIC, IFAW, the Public Prosecution Office of Kenya and the Chinese CITES Management Authority to showcase their strategies for tackling wildlife cybercrime.
This event enabled NGOs and online tech companies to share a standardized wildlife policy framework recently adopted by seven companies, including Tencent and eBay, in collaboration with TRAFFIC, IFAW and WWF.
The speakers also urged countries to take immediate action to rein in illegal online trade by asking them to support a Decision to be debated during the week by Parties to CITES on Combatting Wildlife Cybercrime.
TRAFFIC has routinely monitored China's online retailers since 2012 and in 2015 published Moving Targets: Tracking Online Sales of Illegal Wildlife Trade in China from 2012 to 2014 which disclosed that at its peak more than 4,000 new advertisements per month for illegal wildlife products were appearing online on Chinese language websites. 
The report found transactions for illegal wildlife products, particularly ivory, were shifting away from online retailers and onto social media platforms. 
In November 2015, TRAFFIC and influential Internet value added services provider in China Tencent signed a strategic MoU on tackling illegal wildlife trade carried out through WeChat and Tencent's other social media platforms. Since then, TRAFFIC and Tencent have worked closely to prevent and deter illegal online wildlife trade through regular monitoring and distribution of creative messaging to dissuade users from engaging in illegal wildlife trade. 
"Tencent is committed to creating a safe, environmentally-friendly internet ecosystem," said Band Yang, Director of Information Security Executive Committee, Tencent and event co-host. "We have a zero-tolerance policy for illegal wildlife trade conducted through any of our products or services and are dedicated to using our expertise to create innovative ways of protecting endangered species via the internet. We have also been working with other global technology leaders to set the standards for fighting against illegal wildlife related trade, as well as sharing experience with these like-minded companies." 
In December 2015, TRAFFIC, IFAW and TNC joined Tencent in an initiative to educate users of various Tencent platforms about species conservation, stigmatise illegal wildlife trade, build Tencent's monitoring capacity; facilitate enforcement and remove infringing postings on Tencent's WeChat and QQ platforms. 
"Online wildlife crime poses a serious threat to endangered animals including elephants, rhinoceros, reptiles and birds," said Tania McCrea-Steele, IFAW's Global Wildlife Cybercrime Project Lead. "At a time when counts show historic lows of African elephants, and with rhino poaching numbers in the thousands—and climbing—for three years running, it is essential that companies, governments and NGOs come together to fight this growing hazard. This initiative makes it possible to tackle online wildlife crime in a far more holistic fashion."
In January 2009 eBay took the step of banning the sale of all ivory items on its platforms worldwide and has been working to strengthen enforcement and oversight in the years since.
"eBay has more than a decade of experience fighting illegal wildlife trading," said Wolfgang Weber, Head of Global Regulation at eBay. "We hosted the first roundtable targeting the illicit trade of ivory together with IFAW and law enforcement authorities in 2006. In our experience, these partnerships are the most powerful and effective means to achieve tangible and sustainable results. This is why we welcome and support this important initiative."
"Endangered wildlife cybercrime is a global challenge and it is necessary for government, companies and NGOs at a national level to collaborate and prioritize this issue. We need to take co-ordinated measures to tackle wildlife cybercrime as part of the global effort to conserve endangered species and facilitate sustainable development," said Dr Meng Xianlin, Executive deputy director of the CITES Management Authority of China. 
"I was shocked to see that ivory and suspect ivory made up almost one third of the online advertisements found in IFAW's Wanted - Dead or Alive report. Kenya takes great pride in its elephants and is working hard to protect them from the threat of poaching. It's essential that enforcers everywhere crack down on the illegal online ivory trade," said Rodah Ogoma, Kenya's Senior Assistant Director for Public Prosecutions.
"Given the global reach of the internet, industry-wide exchanges and a policy framework on online illegal wildlife trade are needed to address the issue comprehensively and effectively. This could help to simplify and standardize efforts to monitor the internet." said Xu Ling, TRAFFIC's Senior Programme Manager "TRAFFIC already has some effective partnerships with the private sector, but more partners around the world are needed to combat illegal wildlife trade online."
The meeting was generously supported by GIZ on behalf of the German Federal Ministry for Economic Co-operation and Development (BMZ) and the German Federal Ministry for Environment, Nature Conservation, Building and Nuclear Safety (BMUB).
---