Falling demand for ivory in Cambodia and Singapore?
Cambridge, UK, 7th November 2013 —Despite unprecedented levels of illegal ivory trade globally, there are positive signs that ivory markets in Cambodia and Singapore may be showing signs of decline. Two separate surveys published in the latest issue of the TRAFFIC Bulletin suggest that there has been a significant reduction in ivory items for sale in markets in Cambodia and Singapore over the past decade. 
---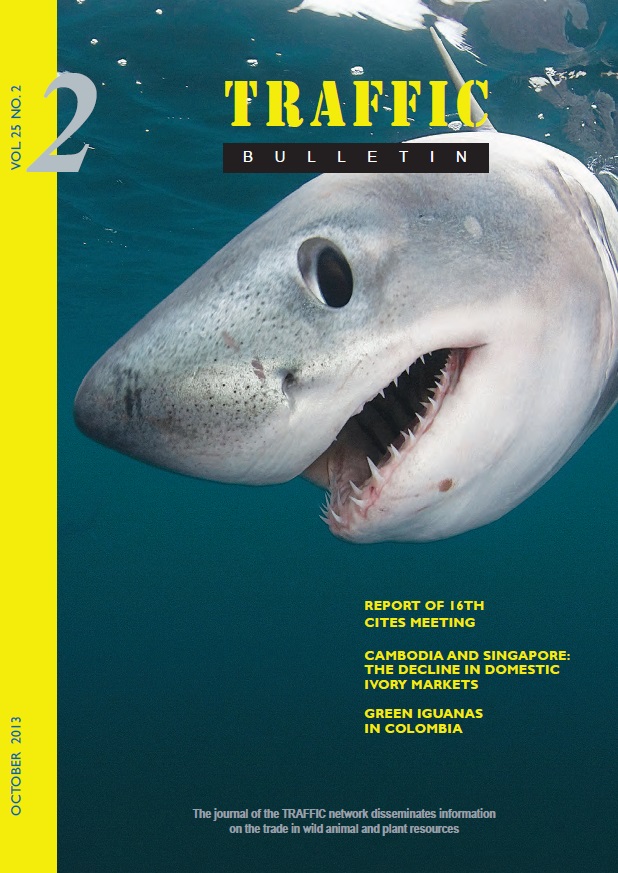 Where large amounts of ivory were on sale in retail outlets in Phnom Penh during surveys carried out in 1994 and 2001, most of the approximately 900 ivory items observed for sale in March 2013 were estimated to comprise less than 30 kg of ivory. Similarly, a TRAFFIC survey undertaken in Singapore in 2012 found a reduction in ivory products for sale and the number of outlets selling ivory, compared with a similar study a decade earlier. However, Singapore remains an important transit route for high volume consignments of illicit ivory between Africa and Asia, and within Asia.
Other features in the latest TRAFFIC Bulletin include a detailed account of the 16th meeting of the Conference of the Parties to CITES, held in Bangkok in March 2013. This was one of the most positive CITES meetings in years, with decisive action being taken to halt the decline in a range of marine and timber species, and strong enforcement measures announced to halt illegal trade in elephants and rhinos. 
Other subjects in this issue cover efforts undertaken to improve forest governance in four Latin American countries—Brazil, Colombia, Ecuador and Peru; FairWild Standard certification for medicinal and aromatic plants; the illegal trade in Sumatran Laughingthrushes and hornbills; trade in Green Iguanas in Fonseca, Colombia; and a section dedicated to some of the significant wildlife seizures and prosecutions that have recently taken place around the world.
The TRAFFIC Bulletin is the only peer-reviewed journal in the world dedicated to studies of global wildlife trade, providing news on the trade in wildlife resources, the latest in related legislation, investigations and seizures, and original reports. The latest edition is available now for download (link below).
---