Experts to establish Wildlife Forensics Network
Kuala Lumpur, Malaysia, 11st August 2010—A network linking wildlife forensic specialists across South-East Asia is taking shape as law enforcement agencies begin to turn to DNA testing as a significant weapon in the fight against wildlife trafficking.
---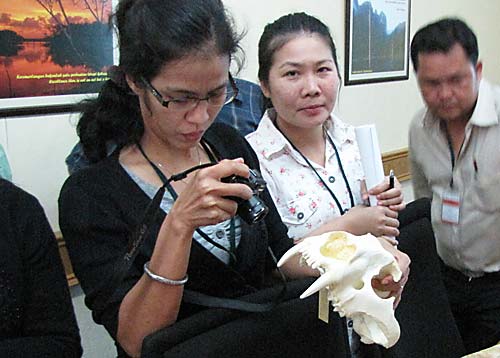 DNA testing is one of a range of forensic techniques to be introduced as part of a new initiative to tackle wildlife crime through the establishment of a Wildlife Forensics Network within the Association of South-East Asian Nations Wildlife Enforcement Network (ASEAN-WEN).
The initiative began last week with a regional wildlife forensics workshop in Kuala Lumpur, designed to train laboratory scientists in DNA techniques, as well as training enforcement officers in sample collection and storage. 
The recent workshop was hosted by Malaysia's Department of Wildlife and National Parks and is the first in a series of international workshops that will be co-ordinated by the ASEAN-WEN.
The training is part of a three-year project headed by TRACE Wildlife Forensics Network, a UK based NGO. The project is run in partnership with TRAFFIC Southeast Asia, and funded by the UK government's Darwin Initiative.
Some 29 scientists and law enforcement officers attended the week-long training.
At the end of the workshop, a network of forensic specialists, and a directory of the expertise in the region was also established to link the many experts and facilities which already exist in the region. 
All agencies, departments and individuals involved in the use of wildlife forensics are invited to join the newly established ASEAN Wildlife Forensics Network website, at www.asean-wfn.org
As experts log on and add their details to the secure directory of regional expertise, a Wildlife Forensics Network will be formed. If a Department is not able to identify a specimen, they will be able to search the online database to find other Departments or experts, perhaps at Universities, who are able to help.
The project will also provide support and advice to enable the ASEAN region to accredit new tests so that they are accepted as evidence in a court of law.
 
Together, these three streams of activity will increase the efficiency of current forensic processes, help co-ordination and collaboration within the ASEAN region, and increase the scientific capacity of the regions' experts. The ASEAN region will be better able to enforce legislation protecting wildlife.
---