EU sets precedent: first REIO to join CITES
Brussels, Belgium, 8th July 2015—The European Union (EU) today becomes a full member of CITES (Convention on International Trade in Endangered Species of Wild Fauna and Flora), the first regional economic integration organization (REIO) to do so.
---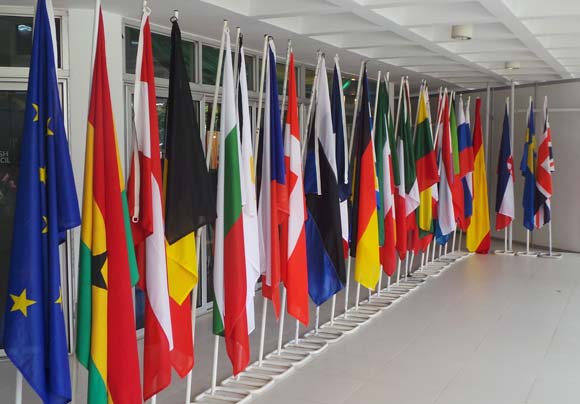 "The accession of the EU as a single Party to CITES is another milestone reached in long-term efforts to ensure consistent implementation of CITES across all Member States that began with the adoption of common EU Wildlife Trade Regulations in 1984," said Katalin Kecse-Nagy, TRAFFIC's Regional Director for Europe.
The EU Wildlife Trade Regulations, which are directly applicable in all EU Member States, provide the legal framework through which CITES is implemented throughout the EU.
Accession to CITES legally binds the EU to implement and enforce the Convention, which should lead to further improvements in the effectiveness of CITES implementation in the Member States.
"The EU is leading the way in demonstrating how to curtail illegal wildlife trade but encourage legal and sustainable sourcing within a single market without internal border controls," said Kecse-Nagy.
It also means that while no additional vote is given to the EU, it can now vote en bloc as a single entity during CITES meetings rather than each of the 28 Member States doing so individually, although that option will still be available if required.
The development is also timely as the EU moves towards adoption of an Action Plan on Wildlife Crime to guide the region's effective contribution towards international efforts to curb the global poaching crisis.
"TRAFFIC would welcome the adoption of a strong Action Plan to support more concerted and co-ordinated action across the Member States and beyond, including across relevant authorities and services traditionally less involved in fighting wildlife crime," said Kecse-Nagy.
Key to curtailing illegal wildlife trade in the EU has been effective collaboration and information-exchange between Member States, such as that provided through EU-TWIX (European Union Trade in Wildlife Information eXchange), which was established in 2005 as a joint initiative by the Belgian Federal Police, CITES Management Authority and Customs and TRAFFIC as a platform for information exchange and communication between officials across 36 European countries.
The EU is among the world's largest and most important consumer markets for products derived from wild animals and plants, including CITES-listed timber and fisheries. In 2011, the EU was the world's largest single market for fishery products, estimated at EUR18.6 billion[1], the second largest market for timber and wood based products, importing 17% of global trade[2] with an estimated value of EUR25 billion,[3] and with an estimated value for all EU imports of CITES-listed animals and animal products of EUR499 million, around 70% of them reptile skins and leather products.[4]
The EU's accession to CITES should enable it to play a fuller and more robust role in ensuring the effectiveness of the Convention internationally and in maintaining the high-level global attention to addressing illegal wildlife trade through initiatives including discussions at the United Nations General Assembly and the G7.
In particular, CITES membership should also provide a stronger institutional basis for the EU to contribute towards projects related to wildlife trade internationally and enhance its technical and financial support to the efforts of CITES Parties, within and beyond the EU.
"With the increasingly important role REIOs are playing in regulating and managing wildlife trade, TRAFFIC also encourages the EU to begin dialogues with other REIOs that could benefit from the EU's experience in CITES implementation," said Kecse-Nagy.
"For many years, TRAFFIC has offered our strong support to the EU (European Commission and Member States) in ensuring effective implementation of CITES and we look forward to doing so for many years to come."
---
Notes:
[1] Palin, C., Gaudin, C., Espejo-Hermes, J. and Nicolaides, L. (2013). Compliance of Imports of Fishery and Aquaculture Products with EU Legislation. GOPA Consortium study for the European Parliament's Committee on Fisheries.

[2] Oliver, R. (2013) 2011 Statistics - EU Totals - Timber trade monitoring in support of effective, efficient and equitable operation of the EU Timber Regulation (EUTR). Forest Industries Intelligence Ltd report prepared for the European Timber Trade Federation.

[3] Thünen Institute in litt. to TRAFFIC, March 2014.

[4] UNEP-WCMC (2013). Analysis of European Union and candidate countries' annual reports to CITES 2011. UNEP-WCMC, Cambridge, UK.

[5] As one of the earliest Multilateral Environmental Agreements – CITES has been in force since 1975 – membership to the Convention was originally anticipated for States only. In response to the growing number of REIOs and an increasing level of regional integration processes globally, Parties to CITES proposed the so-called Gaborone amendment in Botswana in 1983, which made it possible for REIOs to accede to the Convention. The amendment entered into force in November 2013 after Costa Rica formally accepted the amendment in September 2013. That achieved the two-thirds majority of States (who were Party to CITES on 30th April 1983) necessary for the amendment to become adopted.
---