EU enforcement officers take a closer look at timber
Czech Republic, 6th September 2010—A total of 23 enforcement agency officials from eight European countries attended a joint Czech Environmental Inspectorate–TRAFFIC Europe workshop this August in Sedlácký dvůr, Czech Republic, to learn about illegal timber trade and how to identify protected timber species.
---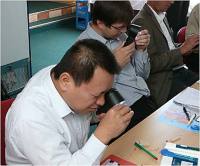 Delegates were taught how to recognize the various timber species listed in CITES (the Convention on International Trade in Endangered Species of Wild Fauna and Flora). 
"Illegal timber trade and the identification of CITES-listed timber species is a key emerging topic for European enforcement officials," said Vinciane Sacre, Project Officer with TRAFFIC Europe.
"Expertise in this area will be particularly important given the legislative changes soon to be implemented in the EU." 
On 20th October 2010, EU Regulation No. 995/2010 of the European Parliament and of the Council laying down the obligations of operators who place timber and timber products on the market will be published. It will enter into force on 3 March 2013.
The participants received theoretical and practical training from two timber experts, a Customs official from the Dutch Customs in Rotterdam, the CITES Implementation Officer from the Kew Royal Botanic Gardens (who are also the UK's CITES Scientific Authority) and TRAFFIC, on topics including trends in illegal timber trade into and from the EU and recognition of CITES timber species using a variety of identification guides.
The workshop, which was financially supported by the European Commission (DG Home Affairs), is the sixth such organized within the EU-TWIX (European Union Trade in Wildlife Information eXchange) project since 2008. 
EU-TWIX is an Internet tool which aims to facilitate the exchange of information and international co-operation amongst European enforcement officials. 
Previous workshops have been held in Belgium, Latvia, Italy, France and the UK. 
Following this workshop, a similar training of 40 Belgian Customs officials will be organized in Antwerp in October 2010, with another similar workshop scheduled to take place in France in September 2011 where a further 25 officers will receive training.
---