Etihad and UAE host workshop to combat illegal wildlife trafficking
Abu Dhabi, UAE, 11th September 2015—Etihad Airways and the Ministry of Environment and Water (MOEW) this week hosted two days of workshops about the growing threat of illegal wildlife smuggling.
---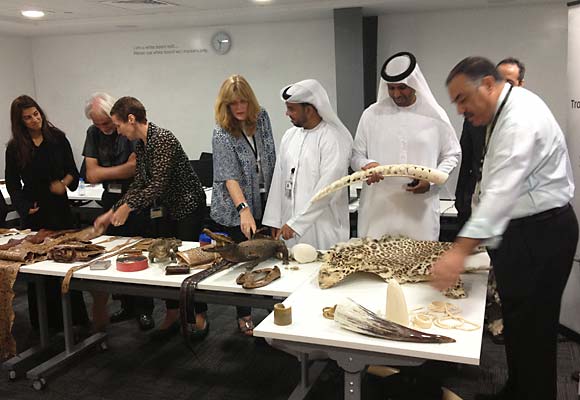 The workshops, focused on potential trafficking through the airport environment, were attended by representatives from the airline, the Abu Dhabi Airports Company, and the General Administration of Customs. Representatives from TRAFFIC, the Environment Agency Abu Dhabi, the Emirates Wildlife Society – WWF (EWS-WWF) and IFAW provided technical expertise. 
The workshops took place at a time when the demand for protected animals and their products continues to increase. A key aim of the two day event was also to improve each organisation's knowledge of the Convention on International Trade of Endangered Species of Wild Fauna and Flora (CITES) of which the UAE has been a signatory since 1990.
Richard Hill, Chief Operations Officer of Etihad Airways, said "We are committed to the welfare and protection of animals. Illegal trafficking is a growing problem, which not only threatens endangered species but is a potential risk to passengers and airport employees. Collaboration in this area is essential in ensuring we can continue to curtail this illegal trade."
MOEW, TRAFFIC (with funding from the United States Agency for International Development – USAID through the Wildlife TRAPS Project), EWS-WWF,  IFAW, and the Environment Agency Abu Dhabi all provided a comprehensive introduction to CITES as well as guidance on CITES permits to help identify forgeries and ensure authenticity. Practical sessions were provided to help in species identification.
H.E. Eng. Mariam Mohammed Saeed Hareb, Acting Assistant Undersecretary of Water Resources and Nature Conservation Affairs, MOEW said: "The workshops reflects the UAE's efforts in enhancing the effectiveness of international policies and legislation and their implementation, as we work to combat illegal trade in wildlife, in particular the species that are listed under CITES.
"Hosting the workshops aligns with the UAE's Vision and National Biodiversity Strategy, which aims to develop and implement programs to improve the conservation status of the most threatened species."
The workshop attendees were given an insight into international methods that are used for smuggling.
Tom Milliken, the Elephant and Rhino Programme Co-ordinator for TRAFFIC said: "Traffickers are highly organised, coming up with ever more elaborate means to forge documents or conceal animals or animal products. It is important for enforcement agencies to increase their knowledge and capacity to detect and deter wildlife crime."
Ida Tillisch, Director General, EWS-WWF said: "We are pleased with the efforts of Etihad Airways and other airport stakeholders in recognising this critical threat to wildlife, and taking much needed action towards the prevention of illegal wildlife trade."
Etihad Airways has a clear policy in place to support animal protection, including strict compliance with all regulations for the carriage of live animals.
---