Empowering Vietnamese women entrepreneurs to combat wildlife trafficking
Today, the Danang Association for Women Entrepreneurs (DNAWE) and TRAFFIC  organised a celebratory ceremony to mark the engagement of the women's business community of Da Nang against the consumption of illegal wildlife products.
---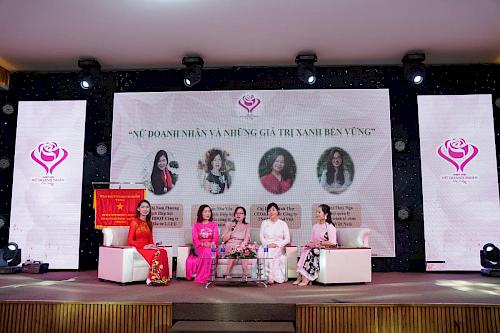 The ceremony gathered 70 businesswomen leaders to present their achievements toward sustainable development, including wildlife conservation and discuss how wildlife-focused actions, such as spreading messages like 'saying no to the use of illegal wildlife products,' could encourage customers and enhance the business reputation.
The business community is important to economic development and new trends and lifestyles. Changing the behaviour of this target group and encouraging them to become Wildlife Conservation Ambassadors is one of the effective solutions to reduce the demand for illegal wildlife products"
Ms Nga Thúy Bùi, Senior Programme Officer at TRAFFIC
TRAFFIC has worked with the business community in Viet Nam to reduce demand for tiger products through Social and Behaviour Change (SBC) interventions since 2020. Most recently, a workshop was organised on 25 March for e-commerce businesses on managing the risks of being unknowingly involved in wildlife cybercrime. Defining TRAFFIC approaches has been influenced by research, which identified Vietnamese men and women, typically aged 45-60, living in big cities, with average incomes above VND20 million, high education, and stable professions like business owners, to be those likely to purchase tiger products and influence others.
During the ceremony today, DNAWE members dedicated a special show featuring a collection of Ao Dai – a traditional Vietnamese dress. Often worn to show respect and national pride, these dresses, with embroidered images of wild animals, symbolically highlight the involvement, leadership and determination of Viet Nam female leaders to stop using illegal wildlife products and encourage others to follow their lead.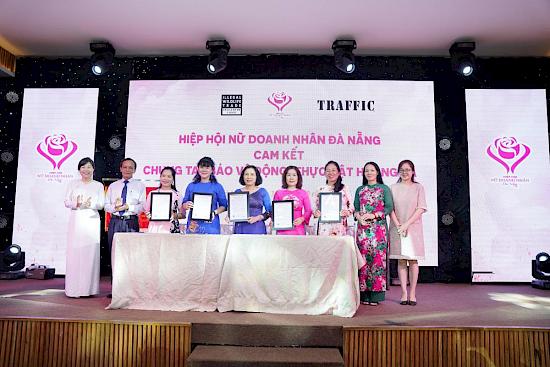 It is our responsibility to promote and create an environment for female entrepreneurs to operate businesses effectively. With the help of TRAFFIC, we want to ensure that women entrepreneurs are well-equipped and empowered not only to manage any potential business risks associated but also to adopt proper corporate ethics and environmental responsibility practices, including the non-use of illegal wildlife products."
Ms Le Thi Nam Phuong, Chairman of DNEWA
Five enterprises pledged to become Ambassadors and show their commitment to wildlife protection. They guarantee to incorporate wildlife protection messages or interventions into their upcoming business operations, such as the placement of SBC banners and integrated staff training. The female leaders also reinforce their commitment to spreading the messages to employees, families, and partners.
This initiative could not be timelier in the light of Viet Nam becoming in recent years one of the global hotspots for the illegal trade in wild species. A prime example is the demand for tiger products, like tiger bone glue, driven by the belief that it can prevent and treat diseases related to bones and joints. Since 2000, Viet Nam has seized the equivalent of 216 tigers, accounting for around 10% of tigers seized in 13 tiger range countries.
---
Notes:
This workshop also contributed to a three-year social marketing program aiming to reduce demand for tiger products in Vietnam, funded by the UK government through the Illegal Wildlife Trade Challenge Fund.
About the Da Nang Association for Women Entrepreneurs (DNAWE):
DNAWE is a local professional social organisation including a diverse group of female leaders and managers doing business in the city, regardless of ethnicity, religion, age, economic class, and business size. The Association aims to promote and create an environment for female entrepreneurs to operate businesses effectively with prompt response to the integration and development pace of the city. The Association supports them in strengthening solidarity and mutual assistance simultaneously, exchange of knowledge and experiences in culture, society, management experience, family issues, and activities relating to gender equality. Events, activities, and training programs are frequently organised to help female entrepreneurs develop their business skills and enhance their capacity to build sustainable businesses.
---
About Defra

The Department for Environment, Food & Rural Affairs (Defra) is the UK government department responsible for safeguarding our natural environment, supporting our world-leading food and farming industry, and sustaining a thriving rural economy. Our broad remit means we play a major role in people's day-to-day life, from the food we eat, and the air we breathe, to the water we drink.