Eastern Africa's Prosecutors meet in Tanzania to strengthen the fight against wildlife crime
Arusha, Tanzania, September 2021— Prosecutors in East Africa are already benefiting from a platform launched last month that aims to strengthen their abilities to combat wildlife crime.
---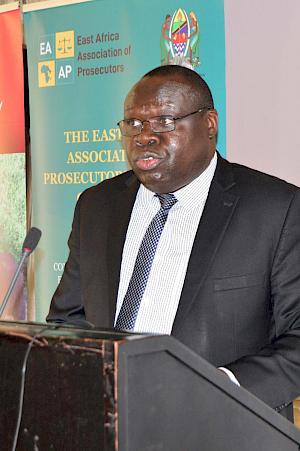 Sixty members of the East Africa Association of Prosecutors (EAAP) are now trained with using the platform following a demonstration by TRAFFIC at the EAAP's AGM. This is welcome news given the serious threats wildlife crime poses to the conservation of biodiversity and associated impacts on national economies.
The 9th Annual General Meeting and Eastern Africa Prosecutors' Conference: Combating Wildlife Crime as an Economic/Organised Crime in Eastern Africa, focused on enforcing and prosecuting wildlife crimes as transnational economic/financial crimes. The conference provided Directors of Public Prosecutions (DPPs) with a detailed demonstration of how the EAAP platform can support and coordinate regional approaches to improve regional and bilateral collaboration on investigating and prosecuting transnational crimes.
This website was created pursuant to the objectives established under the EAC Strategy to Combat Poaching and Illegal Trade and Trafficking of Wildlife Products. It aims to create awareness and enhance prosecutorial capacity to combat wildlife crimes in the region. Ultimately, in the process, strengthening regional and international cooperation. The demonstration of it […]at this conference, is a call for regional prosecutors to make use of it for enhancing investigation and prosecutorial capacities on transboundary crimes."
Hon. Christophe Bazivamo, Deputy Secretary-General, Productive and Social Sectors, the East Africa Community (EAC), in his opening remarks. 
Meanwhile Hon. Sylvester Anthony Mwakitalu, the EAAP President & DPP Tanzania, stressed the roles of the Prosecution Authorities in the region to fight against transnational organised crimes: "I recognise and appreciate the support of our development partners, who have made this event possible. I acknowledge the support of USAID's CONNECT through TRAFFIC, WWF, and IUCN. I also thank Space for Giants, UNODC and AWF for their invaluable support."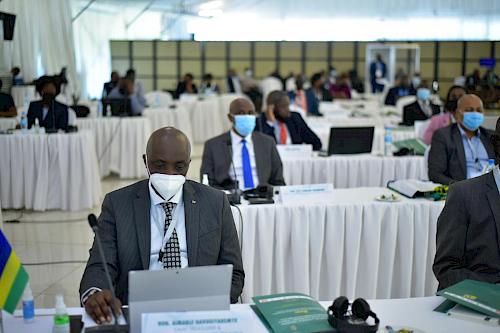 The use of innovative technology and advanced tools were cited among the approaches to be adopted by prosecutors and investigators in the fight against cross-border crimes.
Hon. Bert Ubamadu, Deputy Mission Director, USAID East Africa, stated, "Innovative technologies are also tools for stakeholders involved in fighting wildlife crime. USAID's partnership with the International Union for Conservation of Nature, TRAFFIC and WWF, under the CONNECT project, has led to the launch of the Eastern Africa Trade in Wildlife Information eXchange - or "TWIX". Much like the work of this Forum, TWIX enhances opportunities for information sharing on wildlife crime among law enforcement officers in the region."
Julie Thomson, Director of TRAFFIC East Africa, also raised the challenge of a divergent legal framework to deal with emerging wildlife crimes. She said: "Poaching for bushmeat has been on the rise in the region, a situation which calls for harmonised efforts to put in place appropriate legal frameworks for dealing with this and other under-appreciated crimes involving wild species of plants as well as terrestrial and marine animals."
Rewardingly, six resolutions were passed because of the collaboration found in this conference. Among these resolutions, each member state will adopt best practices to harmonise international standards in investigations and the prosecution of wildlife crimes. Alongside this, five Prosecution Authorities, DRC Congo, Zambia, Malawi, Ethiopia, and Mozambique, joined the EAAP membership.
---
Notes:
The event was generously supported by funds from the USAID-funded Conserving Natural Capital and Enhancing Collaborative Management of Transboundary Resources in East Africa (CONNECT), Space for Giants, United Nations Office on Drugs and Crime, and African Wildlife Foundation.
Close to sixty Prosecutors including, Director of Public Prosecutions (DPPs), Prosecutor Generals, Deputy DPPs, Senior State Attorneys, and State Attorneys from 11 countries – Burundi, DRC Congo, Ethiopia, Kenya, Malawi, Mozambique, Rwanda, South Sudan, Tanzania, Uganda, Zambia gathered at Mt. Meru Hotel, Arusha, Tanzania participated in the event.
The website developed by TRAFFIC under the USAID CONNECT project aims to support prosecutors in effectively prosecuting wildlife and related crimes. 
---
About USAID

The United States Agency for International Development (USAID) is responsible for the majority of overseas development assistance from the United States Government and works to end extreme poverty and promote resilient, democratic societies while advancing security and prosperity for America and the world. www.usaid.gov/