Earth Hour: Wildlife art helps spread sustainable consumption message to Beijing shoppers
Beijing, China, 25th March 2017—To mark this year's "Earth Hour", a high-end shopping mall in Beijing is hosting an exhibition of threatened wildlife origami works to promote the message that buyers should practice sustainable consumption. 
---
Under the theme "One Planet and One Future, CapitaLand", the Raffles City exhibition aims to raise awareness about wildlife protection and reduce demand for threatened wildlife products for a better world. 

Origami master Liu Tong has expressed his concern for endangered species through origami rhino, elephant, tiger, and pangolin works. Centrepiece is a huge white rhino, made from folding a giant piece of paper some 100 square metres in size (watch the video of how it was made). The work was inspired by the fate of the last male Northern White Rhino left alive, called Sultan. Just three Northern White Rhinos are known to exist and they appear destined to follow the annamiticus subspecies of Javan Rhino in Viet Nam (in 2010) and the longipes (Western) subspecies of Black Rhinoceros (around 2006) into oblivion.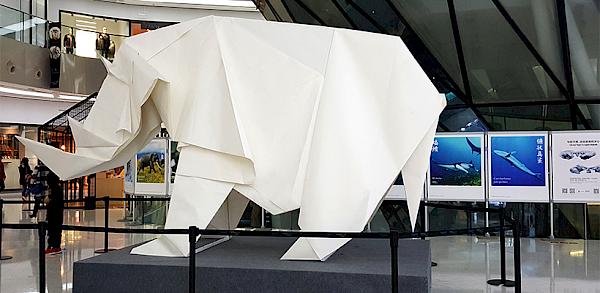 All African and Asian rhinos are threatened because of the current high demand for rhino horns in Asia, particularly Viet Nam and China, with around three rhinos per day being poached in South Africa alone. 

The Raffles City exhibition will last for a week, together with a display of "Endangered wildlife" photographs. Visitors will be encouraged to take part in making origami figures and there will also be face and hand painting events as well as the traditional Earth Hour lights off ceremony on March 25th. Tens of thousands of visitors are expected to visit the displays. 

CapitaLand has previously taken part in Earth Hour events over the past decade as part of putting its corporate social responsibility policies into practice. 

"CapitaLand is a steadfast supporter of 'Earth Hour', and we have already implemented sustainable practices for subsidiary estates for ten years," said Chen Peijin, Managing Director of Enterprise Strategic Relationship of CapitaLand China, Regional Manager for North China.

"This year, beside the regular lights off ceremony, Raffles City Beijing is teaming up with international conservation NGOs and eco-artists to promote rational and responsible consumption, and to call on all consumers to protect endangered wildlife and the environment and respect nature." 

TRAFFIC's Regional Director for East Asia, Dr Yannick Kuehl said: "Earth Hour promotes sustainable consumption and we welcome enterprises who use their platforms to promote such messaging—it means that consumers are encouraged to adopt healthy and conscious consumption patterns and lifestyles. We hope that this way enterprises can actively contribute to reduce public's demand for illegal wildlife products and thus help protect the eco-system." 
---
Notes:
Earth Hour was launched by WWF in Australia in 2007. The campaign encourages the public, government, enterprises and other sectors of society to turn off non-essential lights and other power consumption equipment from 8:30 to 9:30pm on the last Saturday night in March, to express concerns about climate change. In 2009, Earth Hour was officially introduced to China by WWF to create a platform to encourage the public to express for passion for and take environmental protection actions. This year's theme is "One planet, one future."
---