DRC creates new unit to fight wildlife crime
Kinshasa, Democratic Republic of Congo, 25th February 2015—Officials from wildlife and law enforcement ministries and agencies, magistrates, the private sector and civil society organizations met earlier this month to create a National Co-ordination Unit (NCU) to combat wildlife crime in the Democratic Republic of Congo (DRC). 
---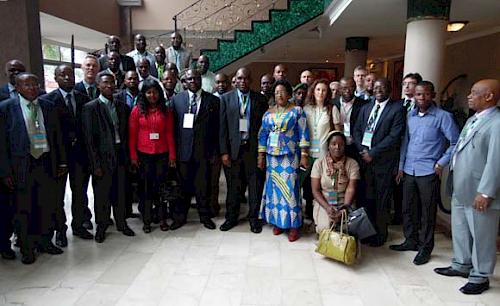 The NCU aims to facilitate the flow and exchange of information to enhance enforcement action against wildlife crime in the country. The meeting also marked the launch of a new TRAFFIC initiative in the DRC. 
"The NCU should ensure better communication and information sharing, increased networking, improved governance and the implementation of measures to tackle corruption, all of which are key to tackling wildlife crime," said Dr Paulinus Ngeh, Regional Director for TRAFFIC in Central Africa. 
Dieudonne Wabi Ituta, a Special Advisor on Nature Conservation from the Ministry of the Environment and Sustainable Development, spoke about the DRC Government's commitment to addressing wildlife crime through the closure of ivory markets and ivory seizures, enhanced border and national patrols, an improved police communications network and support for the judiciary. 
The meeting was organized by TRAFFIC in collaboration with WWF-DRC and implemented in co-operation with GIZ, on behalf of and financed by the German Federal Ministry for Economic Cooperation and Development (BMZ) as part of a project aimed at strengthening the capacity of governments and civil society to implement the Central African Law Enforcement Action Plan, usually referred to by its French acronym, PAPECALF. 
Workshop participants included representatives from relevant DRC Government Ministries, the Congolese National Institute for Conservation of Nature (ICCN), the judiciary, the National Intelligence Agency (ANR), national Customs, police and immigration officers, INTERPOL, WWF, IUCN, Regional Environmental Programme for Central Africa (CARPE), World Conservation Society (WCS), Africa Wildlife Foundation (AWF), the Central African Forest Commission (COMIFAC) and USAID, plus representatives of civil society and the private sector.
---