Corporate social responsibility key to success for start-up companies in Viet Nam
Ho Chi Minh City, Viet Nam, 13th September 2017–Approximately 300 delegates gathered at the Asia-Pacific Economic Cooperation (APEC) Start-ups Forum hosted by the Viet Nam Chamber of Commerce and Industry (VCCI) in Ho Chi Minh City yesterday. The event was held in conjunction with the Small and Medium Enterprise Ministerial Meeting and aimed to inspire entrepreneurship in APEC, stimulate innovative business start-up and enhance business ethics.
---
Madelon Willemsen, Head of TRAFFIC's Viet Nam Office, took part in a panel discussion on the importance of corporate social responsibility (CSR) as part of the proceedings. CSR is increasingly important for businesses, particularly in countries that continue to observe strong economic growth, such as Viet Nam, where businesses who integrate CSR into their practices and policies routinely attract more investors and customers, while lowering their reputational risk and ultimately increasing their profit margins.

Since 2014, TRAFFIC's Viet Nam Office has developed a positive reputation in the country for its work with civil society organizations such as VCCI and others in providing tools and resources to enable businesses to integrate CSR for wildlife protection into their strategies and operations. Under TRAFFIC's Chi brand, which refers to "inner strength of will", a highly respected trait in Vietnamese society, TRAFFIC and civil society organization partners have provided capacity building, toolkits, partnerships and information with regards to relevant and practical integration of CSR into business practices.

VCCI plays a critical role in spreading the business value of zero-tolerance towards the consumption of threatened wildlife amongst its partners. Under VCCI's leadership, approximately 11,000 workers and managers from the transport, logistics, e-commerce and business sectors have benefited from the Chi CSR toolkit and training and social networking events. Events have included Master Trainer workshops, capacity building workshops and creative events such as Chi bike rides.
The demand for illegal wildlife products, such as rhino horn, continues to drive the criminal activities of poaching, trafficking, selling, buying and consuming. Through Chi, we show that strength comes from within a business leader and is demonstrated by their adoption of CSR practices for the good of the company, their staff and the environment
Madelon Willemsen, Director of TRAFFIC's Office in Viet Nam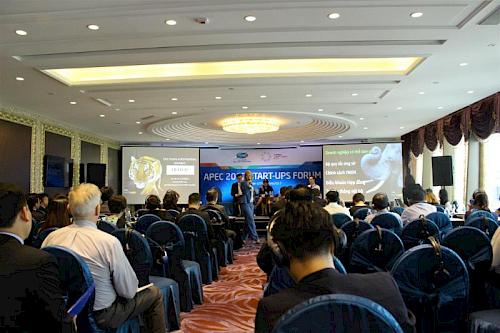 Madelon Willemsen presents at the APEC Start-Up Forum on CSR and illegal wildlife trafficking"However, our research has shown that some businessmen are putting their reputation and that of their company at risk by engaging in illegal consumption and gifting of rhino horn. True business leaders take a strong stance and adopt a zero tolerance towards such behaviour throughout their company codes of conduct, clearly demonstrating to their investors, staff and customers that such practices are not acceptable."
"It is important for VCCI to show enterprises how to grow and manage businesses responsibly. CSR is one of the ways our partners and networks can do this. Business men and women should feel that they can challenge traditional beliefs that animal products are a sign of success. Success comes from hard work, forward planning and understanding business practices. As more of our businesses enter the international market, we want our businesses and Viet Nam to have a good reputation, this means that Vietnamese businesses cannot be linked to the illegal practices of poaching, transporting or consuming endangered wildlife," said Ms. Le Thi Thu Thuy, Vice Director, SMEs Promotion Centre, VCCI.

The start-up forum also focussed on discussing the APEC business ecosystem, APEC start-up community development, business start-ups in technology-applied and innovative agriculture, start-up education and training, and finance for start-up companies.
---