Central African countries agree plan to strengthen wildlife law enforcement
Douala, Cameroon, 15th November 2011—Delegates from eight central African countries last week agreed an Action Plan for strengthening enforcement of national wildlife laws in the region.
---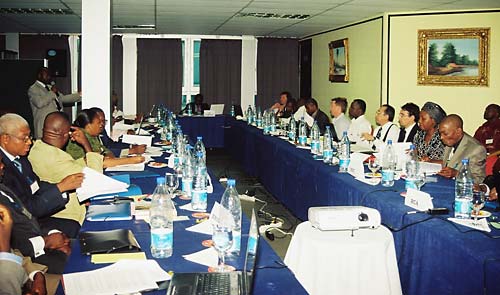 The new Action Plan will ensure better co-operation and intelligence sharing between enforcement officers in Central Africa, to help tackle large-scale poaching and illegal wildlife trade in Central Africa. 
Convened by His Excellency Raymond Mbitikon, Executive Secretary of the Commission of Central African Forests (COMIFAC), the meeting brought together representatives from the COMIFAC member countries—Burundi, Cameroon, Central African Republic, Chad, Congo, Democratic Republic of Congo, Equatorial Guinea and Gabon. 
Also attending were a number of partner organizations who would be assisting in the implementation of the Action Plan, including CITES (Convention on International Trade in Endangered Species of Wild Fauna and Flora), FTNS (Tri-National Sangha Foundation), LAGA (Last Great Ape Organization), MIKE (Monitoring the Illegal Killing of Elephants), PFBC (Congo Basin Forest Partnership), RAPAC (Central Africa Protected Areas Network) and WCS (Wildlife Conservation Society). 
Technical support for the meeting was provided by TRAFFIC and WWF, and the meeting was supported financially by the United States Fish and Wildlife Service (USFWS) and WWF. 
The "Plan d'Action Sous-Régional des pays de l'espace COMIFAC pour le renforcement de l'Application des Législations nationales sur la Faune Sauvage" (COMIFAC Regional Action Plan for Strengthening National Wildlife Law Implementation) covers the period 2012–2017. 
It consists of four components looking at co-operation and collaboration among relevant wildlife law enforcement and prosecution authorities; investigations at key border and transit points, domestic markets and transboundary areas; effective deterrents and prosecutions; and awareness of illegal wildlife trade issues.
"This Action Plan underlines the commitment of Central African governments to address the illegal wildlife trade, which remains a key threat in the region to conservation of animals such as elephants and great apes," said Stéphane Ringuet, Regional Director of TRAFFIC Central Africa. 
The finalized Action Plan will form the basis of a wildlife enforcement network in Central Africa, similar to networks operational or in development in Central America, Europe, South and South-East Asia. 
TRAFFIC's experience in supporting the establishment of enforcement networks helped inform discussions, as did WWF's insights into the functioning of the cross-border anti-poaching collaboration between Cameroon, Central African Republic and Congo (the Tri-National Sangha Foundation (FTNS)). 
A roadmap for implementation of the Action Plan was also agreed at the meeting, including submission of the Action Plan for formal endorsement at the next meeting of the Council of Ministers of COMIFAC countries.
---